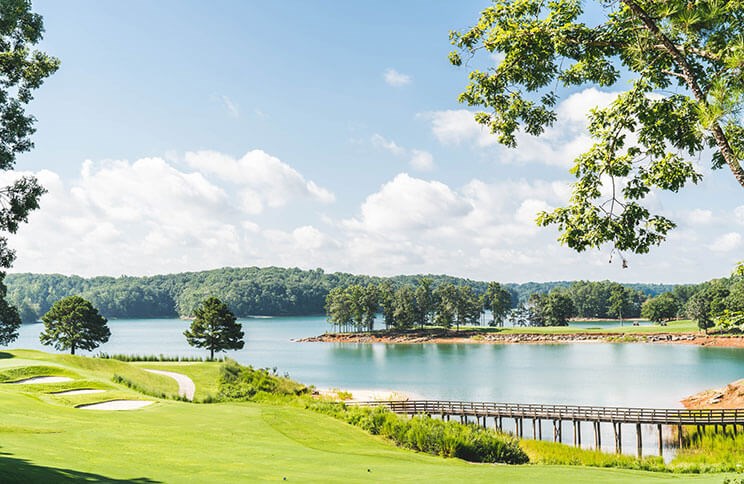 5 Fun Things to Do in Buford, GA
Summer is here and if you're looking for places to visit or move to, the city of Buford and the entire surrounding area have many charming places to consider. Even better – it's just a short drive from Sterling on the Lake.
Those who visit the Buford area often fall in love with its at-home, welcoming vibe and all the fun places to visit. We've compiled a top list popular among visitors and local Buford residents. Here are five things to do in Buford, GA that'll make it a memorable place that you won't want to leave!
1. OUTDOOR FUN
Lake Lanier
Being outdoors in Buford is a must, especially with access to Lake Lanier. There are plenty of ways to enjoy the lake. Enjoy the peaceful, serene environment or check out the hiking trails to explore the area even further! With plenty of marinas and boat ramps nearby, there are many ways to access the lake. On the water itself, you can relax, fish, Jet Ski, or enjoy adventure-seeking water sports like wake boarding, water skiing and tubing. The possibilities to enjoy Lake Lanier are endless.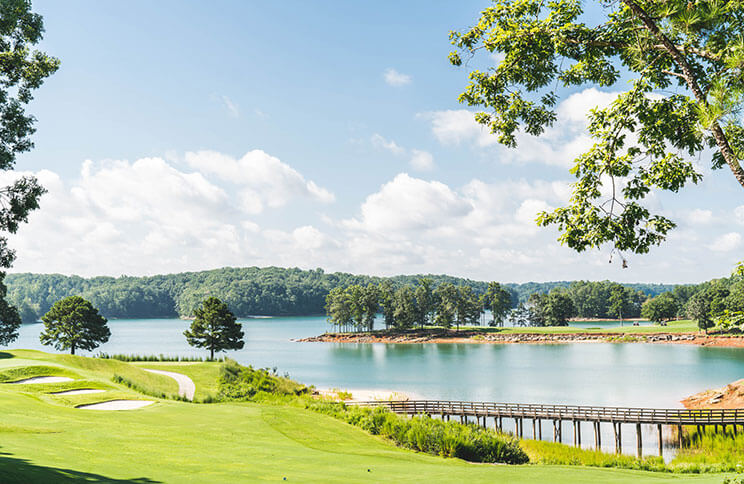 Photo by: Lake Lanier Islands
Bogan Park
Another place in Buford to enjoy the outdoors would be Bogan Park. The park offers plenty of hiking trails so you can spend a good portion of your day getting fit and getting closer to Buford's nature scene. Bogan Park is different from most parks one may be accustomed to. It has an indoor aquatic center with competitive and leisure pools. There is also a gym, basketball court, badminton court, volleyball court and so much more to engage in.
After a long day of activity, stay for dinner with friends and family at one of the many picnic table locations.
2. FOOD AND ALL THAT'S GOOD
Buford, GA has some of the best places to eat. A restaurant to check out when you are visiting Tannery Row would be the Tannery Row Ale House. The Ale House has wonderful selections on burgers and a great bar. It's even vegetarian friendly!
Another place to go to for a quick bite would be The Baking Grounds. They have delicious desserts and an even better pimento BLT. This cafe serves more than just baked goods, so be sure to give it a try.
If you're craving Mexican or southwestern food, Tin Lizzy's Cantina won't let you down. They have lunch, dinner and a late-night menu for all the night owls out there. Their Baja Fish Tacos are delicious with a bottle of beer or a glass of their Thin Lizzy Cocktail.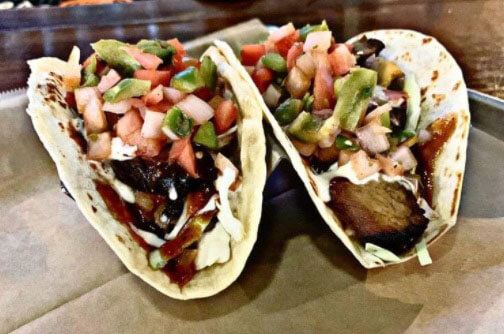 Photo by: Tannery Row Ale House
3. ENJOY THE ARTS SCENE
As mentioned before, Buford is known for its historical aspects – one of them being making leather. When you head to downtown Buford, you'll have a chance to see all the places where the leather was made.
Tannery Row Artist Colony has many different artists who paint, make jewelry and sculpt for you to shop from. Not only can you shop, but the artists also allow you to come into their studios and watch how they make their crafts.
Similar to Tannery Row, Buford hosts The Woman Creative Art and Jewelry Design Center where all the local art and jewelry are showcased. There is so much local talent to enjoy!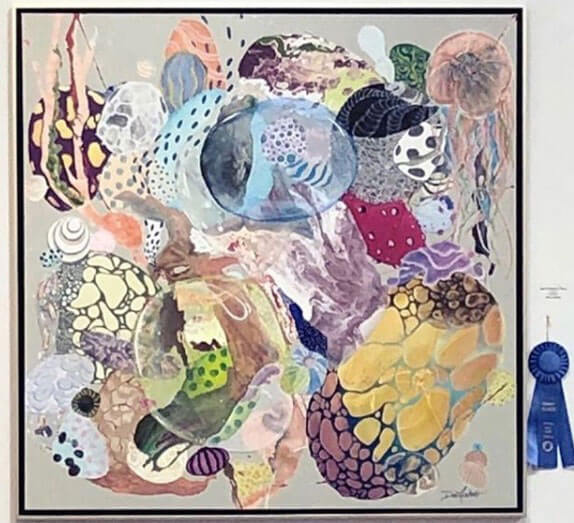 Photo by: Tannery Row Art Colony
4. FUN STUFF FOR FAMILIES
For those that are coming with family, especially kids, there are great outlets in Buford, GA as well. There is the Gwinnett Environmental & Heritage Center, which is a great place to enjoy trails and even try a ropes course. There are also educational displays on topics like dinosaurs for the kids to enjoy while learning at the same time. Another place for adventure-seekers to check out would be Treetop Quest Gwinnett. This place is also great for kids with more rope courses and zip lining!
Interested in baseball? Coolray Field, home to the Gwinnett Stripers, is a destination for sports fans of all ages. When games are taking place, the stadium is full of energy and excitement as spectators cheer on the teams.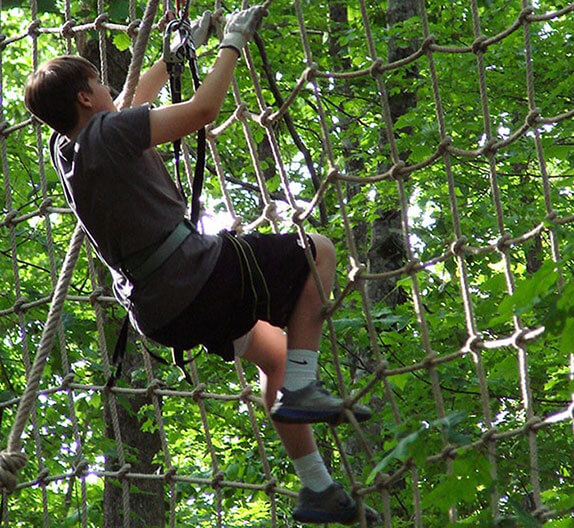 Photo by: Treetop Quest Gwinnett
5. SHOPPING IN BUFORD
If you or your travel companion love to shop, the Buford Mall of Georgia is a great place to update your wardrobe. The mall has over 225 stores, including big names like LOFT, Express, the Apple store, Old Navy and many more. And, if you're craving something sweet, the mall even has Krispy Kreme donuts!
Shopping isn't the only thing the mall has to offer. They also have a movie theater for you to catch up on all the new movies and an amphitheater for various events and entertainment.
In downtown Buford, there are antique shops, boutiques and restaurants you can visit if you're looking for more local options. While you're down there, you can see the historical charm of Buford because many historic buildings and residential areas are preserved.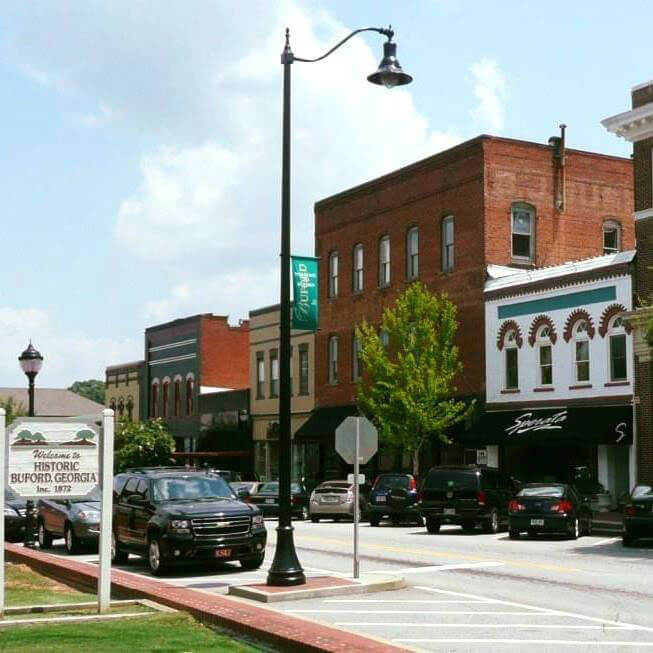 Photo by: Historic Downtown Buford
Now that you have an idea of some fun, engaging things to do in Buford, Ga, start planning your visit. When visiting the area, plan a visit to Sterling on the Lake to view our beautiful community and tour our model homes. Our team of Community Specialists are available by Live Chat, email or phone. We're excited to hear from you!