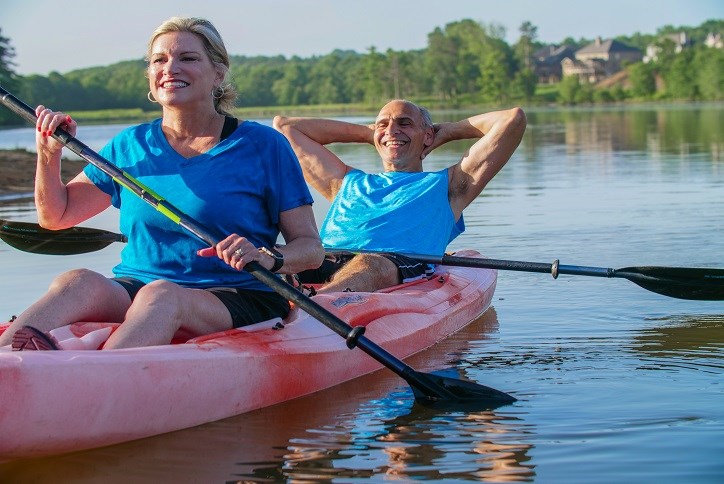 Lake Lanier Attractions: Top Ways to Enjoy Lake Lanier
Tucked away in the foothills of the Georgia Blue Bridge Mountains, just 45 minutes north of Atlanta, Lake Lanier awaits.
The lake, which touts 692 miles of shoreline, was created in the 1950s after the completion of the Buford Dam on the Chattahoochee River.
Today, it's the perfect getaway. Several million visitors make the trip to Lake Lanier every year; you can be one them — and even plan to make this destination your home!

Read on to discover five of the best Lake Lanier attractions.

1. Visit Lake Lanier Olympic Park
When the 1996 Summer Olympics were held in Atlanta, Lake Lanier Olympic Park was the site for the canoe sprint and rowing competitions.
Today, a visit there not only gives you a glimpse of history, but it can also inspire you to hit the water yourself. At the Olympic Park Boathouse, beginners can sign up to take classes to help them learn to paddle or row. Or, if you're already ready to get out on the water, you can rent a vessel. Besides canoeing, kayaking is among the popular activities available.
Lake Lanier Olympic Park also features a public beach with a designated swimming area where you can show off your backstroke. Just remember, there are no lifeguards on duty, so please swim at your own risk.
Lake Lanier boating is another popular attraction, and there's a public boat launch at Lake Lanier Olympic Park that's open year-round. It's the perfect summer activity to get the family out of the house and on the water for some afternoon fun!
Celebrating a birthday or other event? Olympic Tower Plaza is available to rent. Lake Lanier Olympic Park also has a scenic picnic area perfect for enjoying the views while refueling with an afternoon snack.

2. One of the Best Lake Lanier Attractions? Its Waterpark
At Margaritaville at Lanier Islands, adventure awaits. This amazing, action-packed water park is full of things do to and is one of the top Lake Lanier attractions.
Ride down the Raging River, take a dip in Georgia's largest wave pool, or brave the Blackout — a twisting water ride. There's even a double-lane slide where competitive water park guests can race to see who reaches the bottom first.
Thrill-seekers will love the Thunderbolt Triple Zip, which will put guests 50 feet in the air. There are great options for all ages, including the Family Fun Zone for younger kids. You can also grab a bite to eat at LandShark Bar & Grill.
Margaritaville at Lanier Islands also features boat docks, several swimming areas, and an event stage. You can buy daily tickets, or, if you know you'll be back for more fun, the season passes are a great option with many perks!
If you're visiting in the winter, you'll love Margaritaville's Magical Nights of Lights. These Lake Lanier lights, which have been part of the community for more than 25 years, are a stunning visual display celebrating the holidays.

3. Remember to Stop and Smell the Flowers
One great thing about Lake Lanier is its convenient location. Not only can you enjoy a peaceful retreat on its waters, but you can also easily access other nearby attractions during.
In Gainesville, you can visit the Gainesville Garden, which is a satellite garden of the renowned Atlanta Botanical Gardens. You'll be able to soak up the garden's woodland beauty by walking along the maintained trails.
At this garden oasis, visitors can take advantage of various events, which range from sketching in the garden to watercolor classes to story time for children. You can even take a tour to learn more about the flora in the garden.
There's also a model train garden that will delight both old and young visitors. The Ivester Amphitheater is another garden highlight. At the amphitheater, guests can take in performances under the stars.

4. Make a Visit to Main Street
It's always hard to leave the water, but when you're ready, Gainesville's vibrant Main Street awaits. This bustling main drag is home to a variety of things to do.
Treat yourself to some retail therapy at one of the local boutiques. Along with great clothing options to refresh your wardrobe, Gainesville's Main Street is also home to other shops like Moe's Record Shop. After you grab something new on vinyl, you can also pick up a new book to read on the shores of Lake Lanier at Next Chapter Book Store, a local non-profit bookstore. Gainesville's downtown is also home to many art galleries and a paint and party studio.
Gainesville also offers a variety of dining options, from tacos to ramen to gyros. Grab a pie at Atlas Pizza or get a caffeine boost at Inman Perk Coffee. No matter what you're in the mood for, downtown Gainesville has it.

5. Set Up Your Campsite
If you can't get enough of the great outdoors, then you're in luck when you visit Lake Lanier. Along the shoreline, you'll find more than 45 parks and 10 campgrounds. One of the best spots for camping? Don Carter State Park, Georgia's newest state park and the only one on Lake Lanier.
No matter what level of camper you are, there's an option that will work for you. You can park your RV, pitch a tent, or rent one of the available two-bedroom cabins.
Don Carter State Park is also a great spot for fishing and swimming, and hikers can explore a 2-mile trail. Picnic shelters and playgrounds make this state park a great family-friendly option.
Kayaks are also available to rent year-round at Don Carter State Park, and there are stand-up paddleboards and aqua cycles available seasonally.
For another great camping option at Lake Lanier, try River Forks Campground. This entire 112-acre park has more than 63 camping sites, as well as a boat ramp, beach, and fishing pier.

Enjoy Bliss by the Lake
When it comes to having a good time, it's hard to beat Lake Lanier attractions. From an adventurous water park to shopping to kayaking, there's plenty of fun to be found for all ages.
Interested in living the lake lifestyle? With a variety of home designs and floor plans just 20 minutes from Lake Lanier you're bound to find the home of your dreams. Plan a visit today to tour our model homes! Questions? Contact our team of Community Specialists by Live Chat, email or phone to learn more about our builders and home selections.