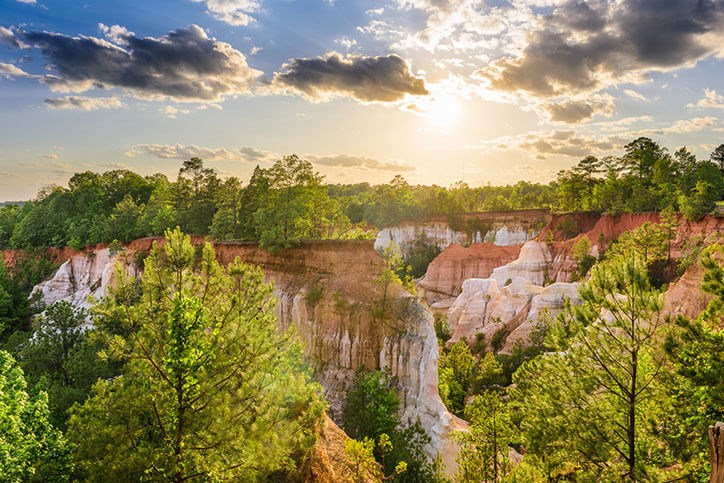 New Year's Resolution: Spend More Time in Nature
This year, you can make exploring the natural beauty of The Peach State your resolution. Picture yourself on the gorgeous Lake Lanier or hiking through one of Georgia's nearby historic trails. Fresh air is what you need as you settle into the New Year, and Sterling on the Lake's convenient location in Flowery Branch means the outdoors will always be easily accessible.
We've created this guide to help you learn more about the many benefits of getting outside and embracing all Northern Georgia has to offer. Read on to discover some of the scenic landmarks you can visit when you make Flowery Branch your new home.
Why Make Northern Georgia Nature Your Resolution?
As we enter the New Year, many individuals are resolving to spend more time in the great outdoors. There are numerous benefits to spending time in nature, ranging from improved physical health to lower stress.
Here are a few research-backed reasons why exploring the beauty of nature makes for the perfect resolution:
Improved sleep
Improved immune health
More mental energy
Overall emotional wellness
Additionally, access to nature provides the motivation to exercise. Individuals living in beautiful natural locations may not only embrace a healthier lifestyle, but also get more enjoyment out of their lives.
The Serenity of Sterling on the Lake
Sterling on the Lake is in beautiful Flowery Branch, Georgia, a historic city about 40 miles from Atlanta. If you're a nature lover, you'll adore the many nearby serene landscapes accessible by a short drive. These natural destinations are sure to become your new favorite outdoor escapes. When you choose to call Sterling on the Lake home, Georgia's natural beauty will be in your backyard.
Georgia National Parks
Did you know that the state of Georgia is home to 11 national parks, historic sites, scenic trails, and recreation areas? The National Park Service runs each of these stunning destinations. Consider planning a visit to one of the following natural areas to complete your resolution of spending more time outside:
Georgia has a comfortable year-round climate, rarely below-freezing, even in winter. You won't need to put your resolution on hold as the seasons begin to change. It's the perfect state for passionate hikers, explorers, or fresh-air lovers.
Visit Lake Lanier
Lake Lanier is the largest lake in Georgia and arguably the most popular lake in the southeastern United States. While the lake includes 38,000 acres of land to explore, many residents enjoy keeping busy on the water. The most popular activities include boating and fishing.
The lake is also a popular site for camping with 10 campgrounds spread across Lake Lanier. Many residents and tourists come to Lake Lanier for water skiing and kayaking. In warm weather, it's the perfect place for a swim. If you want to stay dry, grab your clubs and head to one of the nearby golf courses with a scenic view of the lake.
Have kids in tow? There are enough playgrounds surrounding Lake Lanier to visit a new one every day of the week!
Flowery Branch Bay Park
Flowery Branch Bay Park is a 6.5-acre park right on Lake Lanier, complete with stunning views, recreational areas, and plenty of room for the kids to explore. It's a popular local fishing spot. Imagine yourself living at Sterling on the Lake, where you could slip out of bed in the early hours and spend the morning catching fresh fish.
Residents can rent the park's pavilion for parties or events. With restrooms, grills, and playgrounds on-site, you can spend hours at the park without a care. Interested in grabbing a bite to eat? There are lovely restaurants just a short drive from the park.
The Beauty of Flowery Branch
Imagine all the ways your life will change when you move to a property in Sterling on the Lake in serene and scenic Flowery Branch, Georgia. When nature is this accessible, you won't be able to resist exploring!
Flowery Branch is beautiful year-round, so it's always the right time to come by for a visit. View our virtual home finder to discover new construction homes for sale today.