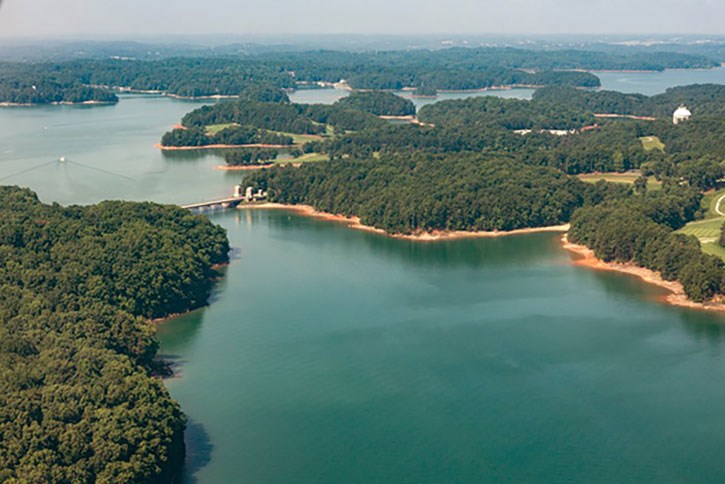 Top Three Ways to Enjoy Lake Lanier This Spring
Lake Lanier is the largest and one of the most popular lakes in Georgia with a sprawling 692 miles of shoreline. Known for endless water activities, beautiful scenery, and a plethora of community events, Lake Lanier is where you'll want to be during Georgia's beautiful spring months. Check out the top ways to explore Lake Lanier this season:
Spring Events
From live music to markets and arts and crafts, Lake Lanier is bustling with events for all ages. You can visit Lake Lanier Olympic Park for Food Truck Friday, a dog-friendly event with music, beer and wine tents, retail vendors, and fantastic food. Take a two-hour  Sunday Brunch Cruise from Lanier Islands, the famous resort on the shores of Lake Lanier. Or, if you're looking for a fun adult's night out, visit the nearby Branch House Tavern for Trivia Tuesday or Wednesday night Karaoke and enjoy authentic barbecue. Whatever your mood, there is plenty to see on and around the lake!
Water Activities
Kayak, fish, boat, or jet ski; the opportunities for on-the-water fun are endless at Lake Lanier. Visit Shore to Shore Boat Rentals to reserve a boat for an exciting day on the lake. You can also choose to unwind on an evening sailing adventure with an experienced captain to guide you through Lake Lanier or book a private sunset cruise with a group of your closest friends. Interested in a slower, more relaxed pace? Choose from an array of floats, and tubes from Aqua Sports Adventures, or learn how to paddleboard and kayak with instructors from Energy Watersports.   
On Land Adventures
There are a variety of maintained parks and campgrounds on the shores of Lake Lanier, perfect for picnicking, camping, and exercising on the trails. Interested in staying for a night or two? Bolding Mill Campground offers 88 full hookup campsites and nine tent sites with laundry facilities and hot showers. Shoal Creek Campground offers campsites with showers, restrooms, picnic tables, and a boat ramp. After a dip in the lake or exploring the area, relax by a campfire and take in the natural beauty.
Springtime in the Peach State is like no other. The crisp weather and soft breezes allow for many comfortable days enjoying the outdoors. At Sterling on the Lake, you're less than 9 miles from Lake Lanier, as well as many other key attractions that can be enjoyed year-round. Visit the community and learn more about new homes, resort-like amenities, and friendly neighbors of all ages.