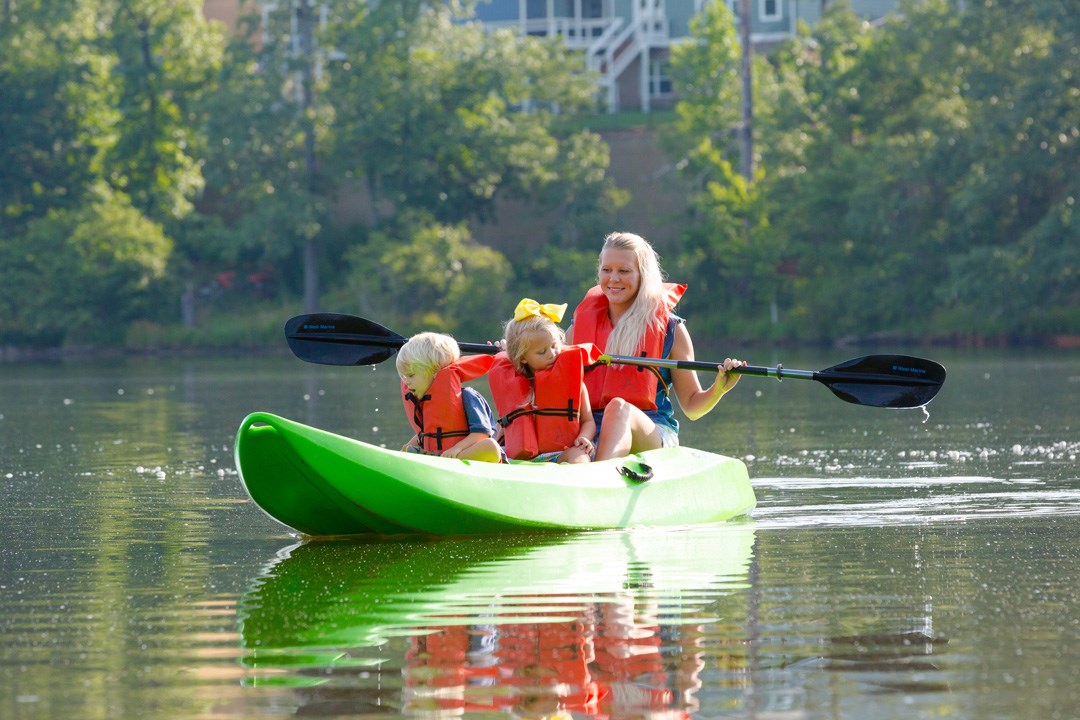 A Healthy Lifestyle Is Easy When Living in Sterling on the Lake
Whether you are looking for proximity to downtown Atlanta or green space and amenities for an exciting lifestyle, our community may be perfect for you. Active parents, young professionals, and empty nesters can all live an active life at Sterling on the Lake. Here are some of the top ways to embrace a healthy lifestyle:
A Space That Supports Healthy Living
Within the community, there are homes specifically designed and tailor-made to match and support your active lifestyle. With plenty of different floor plans to choose from, many with flex spaces or basements, you'll have plenty of room to create a special area that supports your mental or physical health. Whether it's an at-home gym, meditation room, or office, more space means you can develop areas that make you feel balanced, in all aspects of life.
If healthy eating is a personal goal, you'll feel inspired to whip up a tasty meal at home in a new, spacious kitchen. Many of Sterling's new houses also feature smart technology throughout the house, streamlining your everyday activities.
Also, when you purchase a new home, everything is cleaned and sanitized prior to your moving day. You'll be the first person to live in and make memories in your new construction house, so you can breathe easy, without the worry of lingering germs.
Access to the Outdoors
Get a breath of fresh air by stepping just outside your front door. People young and young at heart will love our miles of walking, jogging, and biking trails that connect our neighborhoods, recreational facilities, and parks.
Our Village Green comprises 4.5 acres of luscious green space that's made for connecting with family, friends, and fellow residents. Here, you can attend events such as our Fall Festival or Fourth of July celebration. Save a lazy afternoon for a picnic with the grandkids, or enjoy making s'mores over the fire pit. There are also specific kids play areas, like playgrounds or the custom-built treehouse, to explore.
If you love to get outside, Sterling on the Lake is the perfect place to connect with nature and embrace an active lifestyle.
Socialize at the Community Hub
Connect with fellow residents at the center of the community, the Lakeside Clubhouse, which boasts a 24-hour gym, a 27-seat movie theater, a caterer's kitchen, and two pools with a two-story slide and a waterfall. There are also plenty of areas to hang out around the clubhouse. Relax on the veranda and take in views of the lake, or catch up with friends around the outdoor fireplace.
Whether you're visiting the Lakeside Clubhouse for a workout, pool day, or to chat with neighbors, you'll enjoy socializing in the hub of Sterling on the Lake.
Play a Game on the Sports Courts
Home to three tennis centers, Sterling on the Lake is a place where you can seriously get your game on! We have a rich tennis program for all ages and ability levels. We even have an on-site tennis pro to help you with your volley and serve practice.
Not into tennis? No problem. Sterling on the Lake also has pickleball lines and bocce ball courts located around the campus as well.
Read More with an On-site Library
Not all parts of a healthy lifestyle are done outside. Our on-site library is a great place to visit to relax, study, catch up on work, or check out a few books that interest you. The 28,000-square-foot library is a place to expand your mind and your horizons. It offers:
A computer lab
Private study areas
Meeting rooms with projectors
Special areas just for kids
You'll love curling up with a good book on the screened-in back porch after a long day. It's the perfect way to unwind.
Find Peace of Mind with Healthcare Nearby
With a number of healthcare options near the community, it is easy to access different medical centers for everything from routine checkups to emergency care. Sterling on the Lake is less than 7 miles from the Northeast Georgia Medical Center Braselton and within 20 minutes of Braselton Urgent Care, Smile Doctors, Pediatric Associates, Robson Crossing Family and Cosmetic Dentistry, Braselton Pediatrics, and North Georgia Pediatric Dentistry.
Experience a truly unique, balanced lifestyle at Sterling on the Lake, conveniently located in Flowery Branch, Georgia. Contact our team to learn more about the community.