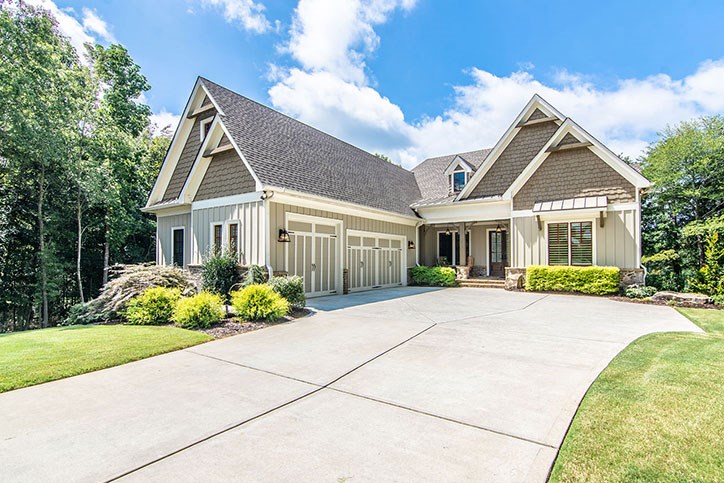 Choose Your Custom Home Builder
The Preserve neighborhood in Sterling on the Lake offers both one-to-two-acre lots and the unique opportunity to build the home of your dreams with its Custom Lot Program. Not sure which homebuilder to select? We currently have a variety of builders approved to build in this stunning neighborhood. Below is an overview of current builder options.
Cowart Residential
Cowart Residential strives to help make the home you have always wanted a reality. With timeless luxury homes designed to fit your needs, they are committed to delivering the home you've always envisioned. With decorative hardware, elite fixtures, fireplaces and more, you can build your home however you'd like.
Harcrest Homes
When you build with Harcrest Homes, you'll work with a dedicated team of individuals who are on the pursuit to provide quality and excellence in every new home. Once you walk into your home for the first time, you will feel a sense of bliss as Harcrest Homes ensures each unique detail and design flow seamlessly throughout your house – creating a special place where your family and friends will gather to make memories for years to come.
Mark Miller Properties, Inc.
No matter your home design, Mark Miller Properties, Inc. believes in building livable floor plans that pay special attention to the heart of the home – the kitchen, dining and living areas – where many people spend most of their time. Whether you're a growing family, young professional or empty nester, your home will be built to fit your lifestyle for many years to come.
Nash Builders
Imagine coming home to a brand-new custom home, built to the highest standards. Nash Builders listens to your wants and needs, then gets to work on construction planning, identifying the most cost-efficient options, and energy efficient alternatives while also focusing on all the design details, both small and large to bring your dream home to fruition. With your needs at the top of their list, you're sure to find your bliss with Nash Builders.
Southernwood Homes
When building with Southernwood Homes, creating your perfect home becomes their priority. Oftentimes homebuilders will have new individuals choose from certain custom home packages. When you build with Southernwood Homes, you choose every detail of your new home – from exterior bricks and stonework, to hardwood floors and exposed beams, and everything in between!
Temmel Homebuilders
Looking to customize a home that has the flexibility to grow as you grow? Temmel Homebuilders design their new houses specifically for that reason, by creating homes where homeowners can add on or make changes down the road. Enjoy the bliss of building a home with the assurance that it can be adaptable to fit your changing needs.
Trademark Contractors, LLC
Interested in building a beautiful custom home but not sure the steps it takes to get there? When you choose Trademark Contractors, LLC, you will not only get an elegant home designed around your needs, but also a fully customized floorplan that meets exactly what you're visualizing. Trademark Contractors, LLC will be there to help guide you every step of the building process with your very own custom home plan guide.
Choose your builder and get ready to embrace the luxury lifestyle in a beautiful community, complete with resort-like amenities, friendly neighbors, and much more. Interested in learning more about the Custom Lot Program at Sterling on the Lake? Hear from local real estate professional, Jamie Mock, on what makes the program so special. Or you can contact our team of Community Specialists by Live Chat, email, or phone. We look forward to hearing from you!