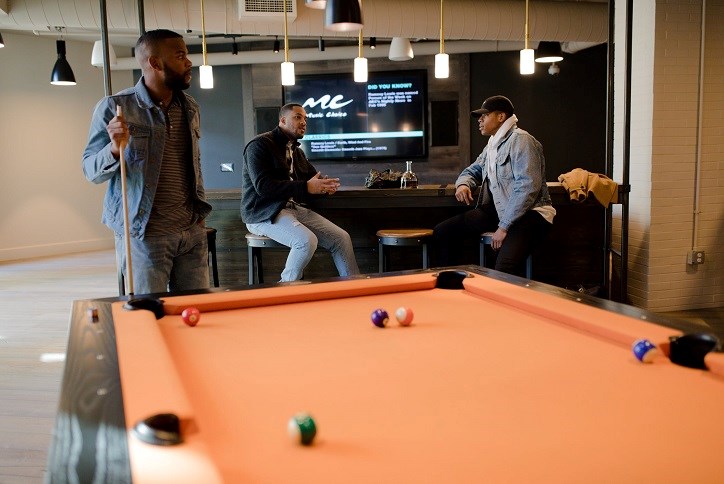 That Space You've Always Wanted
It's officially 2019 and with the New Year comes new resolutions. Why not make this the year to put your goals first and finally accomplish them! Is there a certain "space" or room you have always wanted in your new home? This year, make a New Year's resolution to create the flex space of your dreams!
Here are a few of our favorite ideas for creating your perfect sanctuary out of a basement or flex room:
Fitness room

What's a better way to start your New Year off than by giving yourself the gift of a space to accomplish your fitness goals? Working out can be used as a form of "you" time - to clear your head and achieve personal goals! There are many different variations you could go for when creating a fitness room. If cycling is your thing, have this be your own personal spin studio. If you're looking to become the next Rocky Balboa boxing champ, or maybe just break a sweat on the punching bag, set up your room to have a standing or hanging bag, some medicine balls for weighted ab exercises and a space for jumping rope and you have yourself a training studio. If you're aiming to create a weight lifter's dream room, all you have to do is get some weight racks, weights of varying sizes and a mirror to check your form, and you have yourself a gym floor. You can create so many variations of these ideas, but the most important part is that you are creating a space to do what you love and work on yourself!

Man Cave or She Shed

If you're looking to create a space to relax and unwind, this is it! The best part about turning your flex space into a haven is that you can personalize it to YOU. Is your idea of a man cave a sports theater? Or is your dream She Shed a meditation room? Play around with color ideas depending on what you want this room to be. Calming colors like blues and neutrals allow for a feeling of relaxation. For that sports theater man cave idea, you can hang floor length curtains to block out the light and really have the feeling of being in a theater! A comfy couch and maybe a couple of candles can all help in setting the atmosphere for your new space, depending on what you want it to be. The best part is you have free range to create a space that fits your needs!

Home office or creative space

With more and more people starting to work from home, having a space to get your work done or get your creative juices flowing is ideal! Turning your flex space into a home office or creative space can be a simple process, but will make all the difference when it comes to your work. For this space, the most important thing is to make sure you have a desk, a comfy chair and some inspiration. For the inspiration, it could be anything from hanging your favorite quotes or artwork on the wall, to having some natural light shining in. You can choose from a range of colors, but a cooler palette is usually preferred in this type of space, so you can deflect stress. Add in a plant, a large rug and shelves, and you have yourself a space you can create and display your best work in.
Let 2019 be the year you transform your basement or any flex space into the space of your dreams!