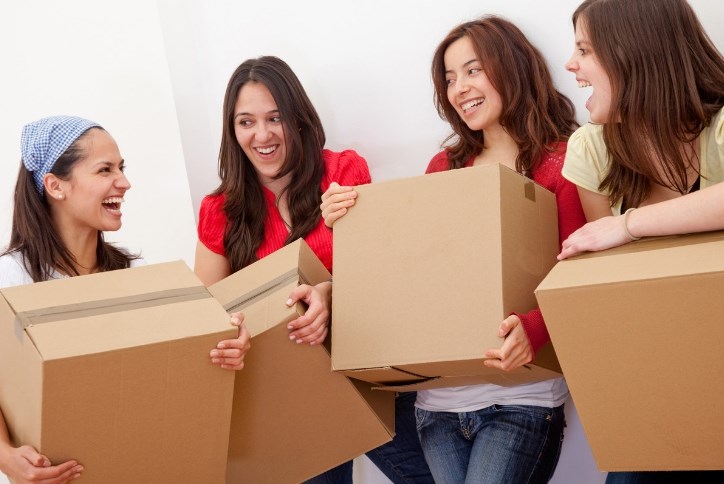 New Year, New Home – Tips for a Stress-Free Move
Something that should be an exciting new development in your life, like moving into your dream house, can be overshadowed by the looming task of moving your belongings. With these tips and tricks you'll be moving into your new dream home like a pro, organized and stress-free!

#1. Purge
• The best way to make a fresh start is to take what you need and truly want with you. So, sit down and start getting rid of all that excess stuff that has accumulated over the years. Make piles to give away, throw out and keep, then all you have to do is start! Another helpful tip is to put sticky notes (try color coordinating) on the larger items in your house you might want to give away instead of keep.

#2. Make A Plan
• Create an organized plan of action with a timeline for certain objectives. Keeping a schedule with action items will keep you from running into some unexpected last minute roadblocks, which can put a wrench in your moving plans!

#3. Take Pictures
• Electronics can be a pain to pack and put back together when you move into your new space. A nifty trick can be to take pictures of the back of your electronics before you unplug them. Make sure to take pictures of the cords, where specific color cords plug in and the overall layout. This will help your reassembling process, saving you lots of time and stress.

#4. The Closet Trick
• The thought of getting everything off hangers, folding, placing into boxes then unpacking and putting back on hangers seems like a pain! A simple trick to save time is to keep the clothes on the hangers, but wrap them in a garbage bag. Gather about 10 to 15 clothing items that you want to keep together and place a large garbage bag over them. Simply poke a hole in what would be the bottom of the garbage bag and put over the hangers and clothes. Once you get to your new closet, all you have to do is take the garbage bag off and hang. This trick keeps your clothes together and clean, so it's a smooth and simple transition.

#5. Cut Holes in Your Boxes
• Why would we tell you to cut holes in your boxes? What we mean is cut two upside down triangles on either side of your boxes to use as handles for lifting and moving. This makes such a difference in keeping things flowing and it allows for easier shifting of boxes in and out of spaces.
Follow these easy tips and tricks leading up to and on your moving day for a seamless and stress-free move into your home at Sterling on the Lake!