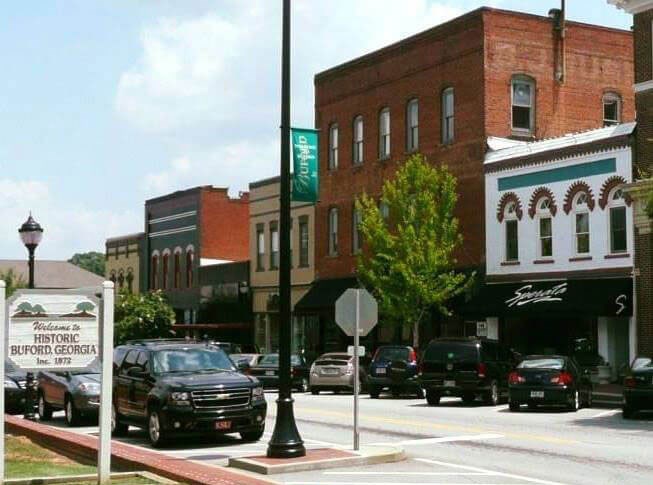 5 Things You Didn't Know About Buford, GA
Twenty-five miles northeast of Atlanta and 8 miles from Sterling on the Lake is a charming, unsuspecting town sprinkled with hidden gems and impressive history – welcome to Buford, Georgia. Whether you've visited or not, there are a few things you probably never knew about Buford and once you're immersed in this town you can't help but fall in love.
Travel Back in Time
In 1872, a railroad was built connecting Charlotte, North Carolina with Atlanta, and thus became the city of Buford. Buford served as a hub, interlacing the two metropolises. For more than 60 years, it was the most populous city in all of Gwinnett County.
Now, the historical district remains relatively untouched, rich with memorabilia, beautiful brick buildings and notable landmarks. Amidst the nostalgia, you'll be entertained as you meander down Main Street, thriving with local boutiques and delicious eateries.
The "Leather City"
Buford was nationally and internationally known as "The Leather City". The Bona Allen Company opened in 1873 and produced high-quality leather products earning itself a worldwide reputation by the 1950s. Among these products were popular shoes, horse harnesses, and hand-tooled saddles which claimed the attention of many cowboy stars including Roy Rogers. During the height of western movies, Bona Allen Tannery crafted custom saddles for a handful of Hollywood cinema favorites.
Beyond leather production, the town had an extensive manufacturing industry which included the South's only glue factory and a large farming operation. You can visit the Museum of Buford to learn more about the "Leather City" and see these famous products in-person.  
The Largest Mall in the Southeast
Buford is home to the Mall of Georgia, the largest shopping center in the Southeast. With three stories and exciting attractions, this mall is a full vacation experience and you'll be tempted to spend the entire day wandering. There are more than 225 stores, a massive dining pavilion, a state-of-the-art children's play area, an IMAX movie theatre, and the pièce de resistance – free valet parking.
A Reputation for Quality Education
The city operates its own Buford City School District with a selection of top-rated public and private schools known for preparing students for success in college. The prestigious Buford High School draws students from all over Gwinnett County who seek academic excellence. At Sterling on the Lake, we understand the importance of choosing a home with quality education options and we are in the perfect location to prioritize your child's future. 
Hollywood of the South
According to Time, Georgia has staked its claim as the Southern campus of Hollywood. Due to the "production-friendly" tax incentive program and the adaptable layout, Georgia is an ideal area to film and the city of Buford is no stranger to fame.
A handful of movies and shows have come to life here, including the 1982 comedy-drama, Six Pack with Kenny Rogers, the 2009 remake of Charlie and the Chocolate Factory with Johnny Depp, and the 2014 romantic comedy, Blended with Drew Barrymore and Adam Sandler. Historic downtown Buford also served as one of many zombie stomping grounds for the AMC series "Tales of The Walking Dead".
The friendly city of Buford, Georgia welcomes you to experience its splendor. With your new knowledge in mind, you can't help but stand in awe of this quaint town with a massive closet of history and treasures. If you are interested in learning more about the Gwinnett and Hall County areas or life at Sterling on the Lake, contact our Community Specialists, or visit our Virtual Shopping Hub to explore our amenities and new home options.