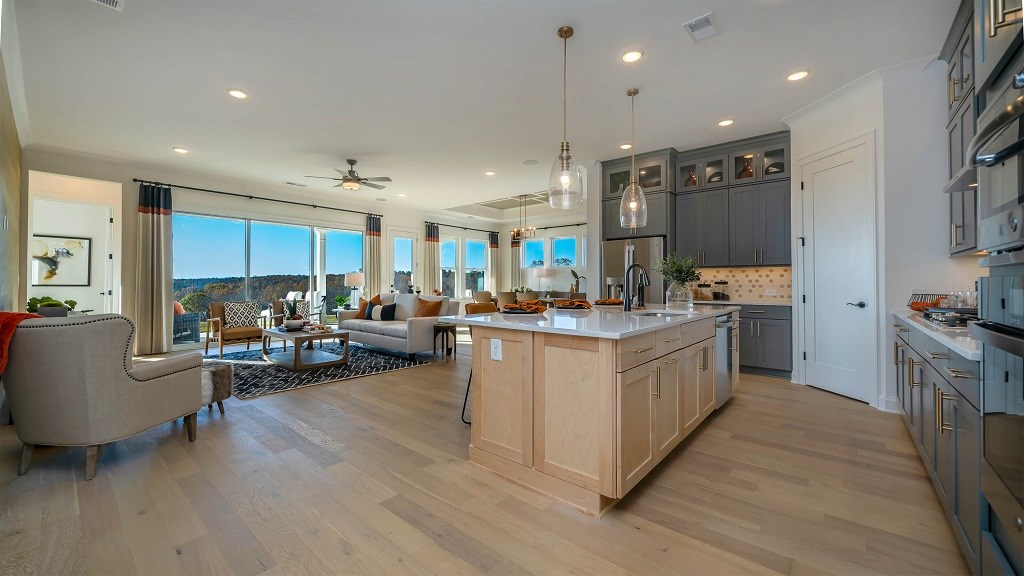 Benefits of a New Ranch-Style Home for 55+ Living
The Retreat at Sterling on the Lake features award-winning home designs, with a bevy of configurations, from Encore by David Weekley Homes. Their gorgeous ranch-style homes are perfectly suited for a 55+ lifestyle, which features low-maintenance, open concept living, gorgeous amenities, and an inviting community filled with endless activities to discover.
Interested in learning more about the perks of single-level living? Read our top five reasons to love a ranch-style home in The Retreat at Sterling on the Lake. 
More Livable Space
In these new ranch-style homes, you'll never compromise on space! The magic of these homes can be largely credited to their flexible, open floorplans. A home with this type of layout can feel far more spacious than a home of the same size with a closed design. Without extra opposing walls or a chopped-up floorplan, you gain more quality square footage, and you can move freely from one area of your home to the next.
An open floorplan also allows natural light and airflow to stream generously throughout, creating a brighter, airier space with the added perk of a reduced electric bill, which we will touch on more in a bit.
Entertaining in Style
Do you love hosting gatherings for friends and family? If so, these new ranch-style homes are the perfect setting. With room to entertain and an impressive kitchen in the heart of the home, your guests will feel included without being overcrowded. From holiday festivities and friendly hangouts to family game nights or much-needed you-time, you'll have space to either chaperone or escape in stylish elegance.
Channel Your Inner Designer
In the semi-customizable layout of a ranch-style home, what appears to be a large single room can be so much more. Closed-off floorplans give each room a limited purpose, while open living areas allow for greater flexibility. With a touch of creative ingenuity and feng shui, you can transform your spacious room into blended areas using furniture, lighting, and accessories. Your living space could feature a cozy parlor, a sunlit reading nook, or a productive home office. The possibilities are endless!
Low Maintenance, Inside and Out
As mentioned before, the open layout of a ranch-style house will benefit your electric bill. In addition to energy-efficient windows, having fewer walls to block circulation can make it much easier to heat and cool the entire home, which is especially helpful during the cooler months in Flowery Branch, Georgia. Stay toasty during the holiday, cozied up in your home and when spring rolls around, leave your porch doors open and let the crisp air do the cooling.
Exterior lawn maintenance is also a breeze. Your sodded and manicured areas will all be taken care of by your HOA.
It's More Than Just Living, It's a Lifestyle
Sterling on the Lake offers a warm community connected by trails, parks, and sports courts inviting you to enjoy all your favorite outdoor activities. Step into adventure and kayak or canoe the lake with friends or relax at our Lakeside Pavilion while grilling out with the family. In addition to the private 55+ clubhouse in The Retreat, you'll have unlimited access to the Lakeside Clubhouse to enjoy the 24-hour fitness center, movie theater, zero-edge infinity pool, and so much more. Pop over to Downtown Flowery Branch and explore the plethora of boutiques, local eats, and galleries. From hospitals to medical centers, quality healthcare is also nearby, including the newest campus of Northeast Georgia Medical Center, only six miles away. If you're looking for a weekend getaway, Sterling on the Lake is only a short drive from the scenic Georgia mountains and minutes from the magnificent waters of Lake Lanier.
The ranch-style homes in The Retreat at Sterling on the Lake will be the change you've been looking for. Spread out comfortably in this streamlined layout, designed to your taste and easy to maintain. Enjoy alone time in the luxury of your spacious living area or indulge in your community, where neighbors become friends. You'll be surrounded by green spaces, private lakes, and privy to resort-like amenities, making ranch life the best life. With vibrant livability and limitless potential, you'll wonder why you didn't move sooner. Learn more about Encore by David Weekley Homes at Sterling on the Lake today.