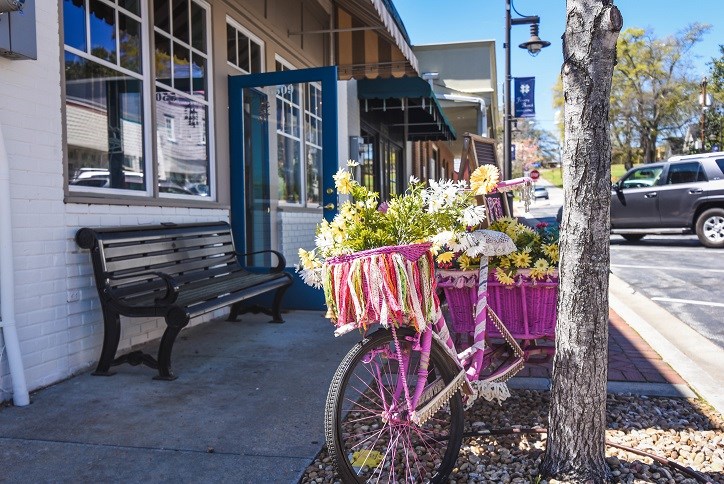 Fun Places to Visit in Flowery Branch, Georgia
Finding a new home can be a hard process, especially when you may be moving to a new town. Many of our buyers find that Sterling on the Lake's location in Flowery Branch, Georgia is a big part of what makes this community really special.  This family-friendly and Boomer beloved town features southern charm with a robust number of local favorites, from delicious eats, local shopping, and day trip opportunities. Check out some of the best spots our residents and others love to visit in Flowery Branch.
Small-Town Charm
Home is more than a beautiful house you come home to every day, it's a community and lifestyle. Flowery Branch, Georgia has the perfect amount of small-town bliss. Main Street Flowery Branch is the best spot in town for an afternoon outing. With a selection of local shops including small boutiques, an antiquers' heaven at Sample Pleasures and our locals' favorite restaurant, Antebellum where you can get your southern food fix, you're sure to get a taste of life here in Flowery Branch.
The Great Outdoors
One of the best things to do in Georgia is getting outdoors and enjoying nature. Aside from the beautiful green spaces here in Sterling on the Lake, you can explore Cherokee Bluffs Park, a short 5-minute drive from the community or if you're looking to get out on the water join friends and family for a day at Lake Lanier, offering boat and jet ski rentals. Or, you can explore their walking and hiking trails, play a round of golf at Legacy at Lanier Golf Course or zipline across the lake at Lanier Islands Water Park.
Feeling more adventurous? Pack up the car for a quick road trip north to breathe in the fresh mountain air. There's plenty to explore in the North Georgia mountains, or travel a bit further to North Carolina or Tennessee to discover more parks, national forests, and camping sights.
Proximity to all the Action
One of the reasons many of our residents call Flowery Branch home is because of its proximity to other highly attracted areas. In just a 40-mile drive you can be strolling the streets of Downtown Atlanta, indulging in the best eats and exploring some of the most desired spots in town, like, Ponce City Market, the Georgia Aquarium, the Atlanta Botanical Garden, Piedmont Park and so much more. The city is full of history so be sure to check out the Atlanta History Center, or the National Center for Civil Rights.
Flowery Branch is also a short 20-minute drive to downtown Buford, a historic town where many love to gather and browse the local antique shops, art galleries, and boutiques and dine for a tasty dinner. While down there, you'll see the historic charm shine as many historic buildings and residential areas have been preserved.
Access to Sports Teams
Flowery Branch puts you in the center of all the action with access to some of the best sports teams. Get a fresh start as you fall in love with your new home and become a fan of the Atlanta Falcons, whose training camp is located here in Flowery Branch. If baseball is more your sport, catch an MLB game at the home of the Atlanta Braves. Although the team was previously located in Milwaukee and Boston, they've been a staple of Atlanta since 1966. For all the soccer lovers, Atlanta is also home to the Atlanta United soccer team founded in 2014.
Escape to Your Bliss
If you're looking for a new home in a place with small-town charm and access to the city life, then Sterling on the Lake in Flowery Branch, Georgia is the place for you! Whether you're a first-time homebuyer, a growing family, looking for extra space or an empty nester looking to simplify, Sterling on the Lake has a home for you.
Plan a visit and explore our community and tour our model homes to find the perfect fit for your needs. Questions? Contact our team of Community Specialists by Live Chat, email or phone to learn more about our builders and home selections. We look forward to helping you find your perfect new home!