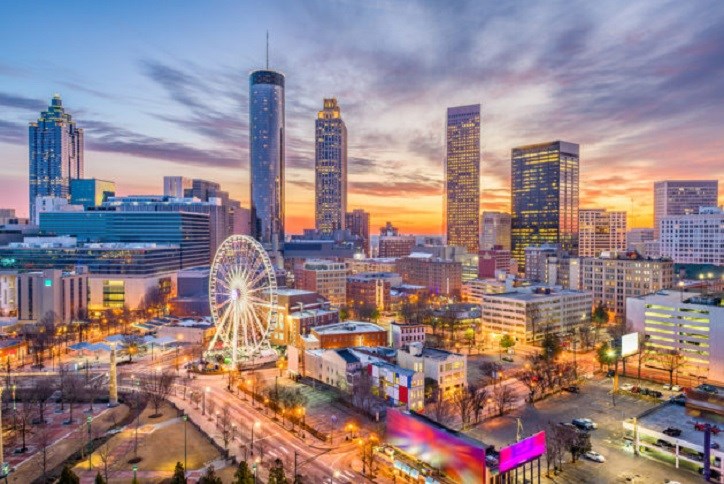 Fun Things to Do in Georgia: Atlanta Edition
Atlanta, Georgia is one of the south's most beautiful and vibrant cities. It's a city where musicians, artists, civil rights leaders, athletes, and business owners come together to make their dreams a reality. It was even recently ranked as the fourth fastest-growing metro area in the United States.
With so much to see and do in Atlanta, it can be hard to know where to start. Check out our guide of top spots to add to your itinerary next time you're in the city – you won't want to miss out!
Visit the Georgia Aquarium
Located in the heart of downtown Atlanta, the Georgia Aquarium is an experience that all ages will love. Kids can get up close and personal with hands-on marine life exhibits, while the gargantuan whale shark exhibit is sure to make any adult feel like a kid again.
The Georgia Aquarium is the largest in the world, so be sure to leave plenty of time to explore. Admission is $35.95 per guest, with free admission for children three and under. Tickets are currently only available online – purchase now!
Sample Sodas at the World of Coca-Cola
Just a few hundred feet from The Georgia Aquarium sits one of the city's sweetest spots and best attractions in Atlanta. The World of Coca-Cola serves as a fun look into the history of the world's biggest soft drink manufacturer, with plenty of exhibits to explore.
But the real highlight comes at the end of the tour, where guests can sample sodas from across the globe at the Taste It! exhibit. You're free to sip to your heart's delight, so take your time and try everything! Admission to The World of Coca-Cola is $18 per adult, $16 for seniors over 65, and $14 for children 12 and under.
Take in the Skyline at SkyView
With so many fun things to do in Atlanta, you may forget to take a breath and enjoy the sights. This is exactly why we suggest taking a break from your busy day and riding the SkyView, Atlanta's 20-story Ferris wheel located on Luckie Street, right next to The Tabernacle.
Carts are climate-controlled, so you can enjoy a view of the city whether you're visiting during the sunny summer days or the middle of winter.
We suggest saving this activity for last so you can watch the sunset over the city in what is sure to be an unforgettable view. You can purchase your ticket(s) to SkyView for $14.50 per adult or $9.50 per child under the age of 11.
You'll Never Run Out of Fun Things to Do in Georgia
There's no shortage of fun things to do in Georgia, especially if you're hanging around the Atlanta area, just a short 40-mile drive from Sterling on the Lake.
To learn more about how we can help you call Georgia "home," contact our team of community specialists by Live Chat, Email or Phone to learn more about our builders and home options. We're dedicated to helping you find the perfect house for your needs and are merely a click or call away!