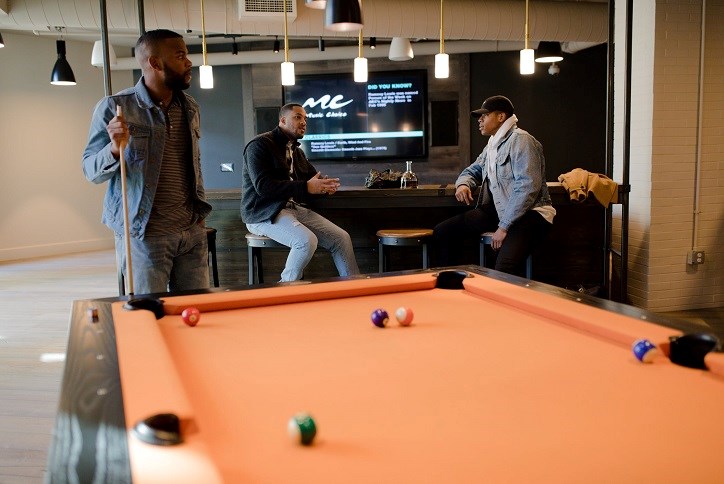 That Space You've Always Wanted
Many of the new homes in Sterling on the Lake include flex space, and there are endless options for what you can use it for! Check out our top 5 ideas for customizing your flex space to create a functional home that fits your unique needs.
Home Gym
Why not create a personal arena to accomplish your fitness goals? Working out can be used as a time to clear your head and achieve personal growth. Create a cycling studio where you can sweat it out, or a boxing room with a couple punching bags – whatever your preference, you'll have the flexibility to personalize your gym space in your own home.
Man Cave or She Space
Make this area your own, whether you're looking for a space to set up a pool table, bar area and a flat screen for hanging with friends or a place for honing in on your crafting skills. A Man Cave or She Space creates an opportunity for you to unwind, try new things or just have a personal retreat to escape to for some peace and quiet.
Home Office
If you work from home in any capacity, having a home office is a game changer! It allows you to have a designated space for your work, rather than allowing it to take over your home - and your mind. Having a home office space allows you to focus and keep your work organized.
Home Theater
This is the perfect space for relaxing by turning on a good movie and sinking into a comfy seat. Having a home theater lets you bring all the excitement of the movies into your home. Room features such as reclining seats, a popcorn machine and movie poster artwork are a fun way to transform your flex space into a personalized viewing space.
Game Room
Want to be the most entertaining house on the block? Turn your flex space into a game room for all ages to enjoy! You could add in items such as a couple arcade games and a foosball table or a pool table and darts to compete on. It all depends on the atmosphere you want to create.
Whichever idea fits your lifestyle best, you'll have the opportunity to craft the space you have always wanted! View available homes with flex spaces, today.