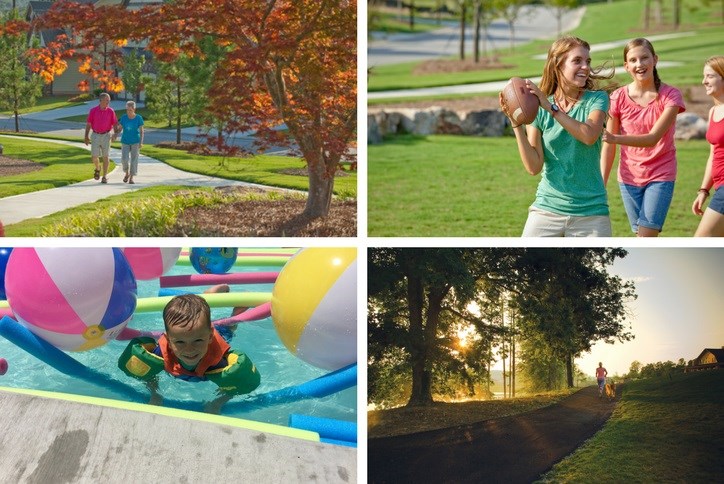 8 Ways to Keep Your New Year's Resolutions in Tact in Sterling on the Lake
New Year's Resolutions can be tough. Making a list of goals and achievements for the year seems simple, but as we move further into the year, it's easy to lose sight of our intended goals. Getting back on track (or even getting started) can be daunting, but you don't have to go far to take a step in the right direction, especially if you're looking to stay active in the new year. As the weather begins warming up in Sterling on the Lake, residents can take advantage of an abundance of activities and amenities that take the chore out of saying fit. From a peaceful walk through wooded trails to making a splash in one of the community pools, here are 8 ways to keep your New Year's Resolutions on track close to home:
Walk it Out
It can be difficult to convince yourself to get outside in winter weather, but as the weather warms up, its the perfect excuse to get outside and enjoy Sterling's trails and open space. Plus, according to Prevention, walking just 30 minutes a day can improve your mood and even reduce your risk of chronic disease.
Get the Whole Family Out for a Day at the Park
An easy way to turn fitness into a hobby rather than a chore is by getting loved ones involved. Grab the family and head to the Village Park & Green  to enjoy some time on the wooden swings or pick up a game of soccer on the grassy field. Time will fly by so quickly, you will forget you're burning calories.
Spend a weekend Kayaking on the lake
Take a trip to the community dock on the lake and check out a kayak or canoe. Venturing out to enjoy the scenery makes for a relaxing activity and leaves plenty of opportunity to enhance your photography skills by snapping the perfect sunrise or sunset photo.
Join a Group Class
Those looking to try new activities in the new year can take advantage of the group activities and events held by Sterling on the Lake each month. You can brush up on your nutritional knowledge on Mondays in the Clubhouse or focus your mind in a weekly yoga class. The events are held all-year long, making it easy to get started on your goals at any point in the year.
Dust Off Your Competitive Side with the Corn Hole League
If you're looking to bring out your competitive side in 2018, take advantage of the Sterling on the Lake Corn Hole League. Whether you're a seasoned champ or just starting out, there's plenty of opportunity to sharpen your skills and get outside.   
Make a Splash in the Pool
A simple way to stay active with the warmer weather is by making a splash in one of Sterling on the Lake's pools. Residents can celebrate the start of this favorite summertime activity with the Splash Bash Celebration on May 19th. Here, everyone can enjoy relaxing poolside while the kids partake in a T-Shirt Design Contest with signature shirts for the 2018 season. The contest will open March 1st with details on Sterling Life.
Stay on Track with the Fitness Center
Although winter may be coming to a close, a gloomy day still shouldn't put a damper on keeping your goals in 2018. For the days when getting outside are less than ideal, Sterling on the Lake's 24-hour fitness center at the Lakeside Clubhouse can help you get in a quick workout without having to venture far from home.
Get the Kids Climbing with the Children's Treehouse
To encourage the kids to stay active and foster their sense of exploration, take a trip to the Children's Treehouse. Located off the beaten path, this amenity dedicated to children will have the little ones eager to get outside and away from electronics.
Although it's easy to give up on New Year's Resolutions, these activities can ensure there is enough variety and fun to keep you and your family motivated throughout the year. You can find out more about the amenities of Sterling on the Lake here.