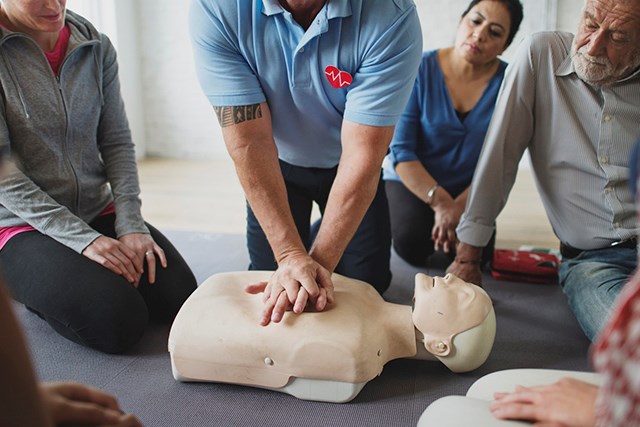 Expand Your Skill Set in Sterling on the Lake
Beyond providing a vibrant community full of friendly neighborhoods and endless activities, Sterling on the Lake offers our residents the ease and convenience of attending continuing education and enrichment courses right here at home. Our onsite classes bring experts and resources directly to Sterling on the Lake to help foster personal development and expand professional networks for future connections. Plus, while the biggest convenience is for our residents, many of the classes are also open to the public! Read on to discover what classes we're proud to offer as part of an ongoing schedule.
Fitness Classes and Day Camps
For our residents seeking a healthy lifestyle, we offer a variety of fitness classes conveniently located our amenity centers. PiYo combines Pilates and Yoga to define muscle while increasing flexibility, and Yoga and Meditation classes keep you centered and flexible. As summer approaches, we'll also be offering an Aqua Aerobics class designed to increase strength without causing joint pain. Each class is taught by an energetic instructor ready to motivate and encourage students to achieve their goals.
For kids and teenagers, summer sports camps allow young athletes, both resident and non-resident, to find new talents, try new activities, gain independents, and make lasting friendships – all the while staying fit. Soccer fans can join the Challenger Sports' British Soccer Camp to learn from an international coaching staff ready to sculpt confident players through technical drills, tactical practices, and coached scrimmages. Kids looking to learn tennis fundamentals can join the community's Tennis Skill-Building Summer Camp, which seeks to establish a solid foundation of the game for young players of all skill levels.
Our swim team, the Sterling Stripers, also adds an avenue for team building and sportsmanship, competition, and old-fashioned fun through meets and fun days.
Gardening and Lawn Maintenance
With Master Gardeners as residents, it's no wonder that we're eager to share their horticultural knowledge with our other neighbors and surrounding community! Hugo Kollmer, Lifetime Master Gardener & Arborist shared his tricks of the trade for caring for our trees in a previous course, while our last Sustainable Gardening 101 session brought tips and techniques to our residents on how to keep a beautiful, healthy garden. Plus, our Home & Garden Club gives budding gardeners a chance to blossom and grow their love of nature. Residents ready to get a green thumb can join the fun at our meetings, traditionally held on the fourth Thursday of each month, or through day trips which are scheduled in warmer months.
First Aid and CPR/AED Certification
Our most recent class offered life-saving skills essential for every household. The First Aid and CPR/AED Certification course was held on April 1st, open to the public, and provided a range of age-specific techniques for First Aid, CPR, and Automatic External Defibrillator (AED) usage. Practical application gave attendees hands-on experience through situational activities. The comprehensive course covered each of these three aspects thoroughly within 5 to 6 hours to ensure attendees could effectively recognize and treat emergencies within the critical first minutes. Upon completion, each participant received CPR, AED, and First Aid certification that is valid for two years.
Financial Planning
Young or old, everyone benefits from a financial knowledge tune-up. Our classes covered a comprehensive range of topics for various life stages including money management 101 for teenagers to long-term care planning, and asset protection for resident and non-resident families. Financial planners provided easy to understand guidance ranging from comprehensive overviews to detail-oriented Q&As. To help ensure adults could easily focus on their financial futures during our last session, we screened a movie in our community theater to keep the little ones entertained while away from their parents.
Defensive Driving
Designed for drivers of all ages, our AARP-sponsored Drivers Safety course taught proactive and reactive behind-the-wheel methods that may help decrease the likelihood of an accident and reduce distractions. As an added bonus, some insurance companies offer a reduction in annual costs for the completion of such safety courses.
Teen Safety
Formatted to keep the attention of our youngest drivers, our last teen drivers' safety focused on the high-risk behaviors common to new drivers, such as distractions, mobile device usage, and other passengers. With partnership from multiple agencies, this session was both informative and fun, and provided required course hours to those seeking their learners permit or junior license.
Continued Education for Real Estate Professionals
Georgia real estate professionals can rest assured they're up-to-date on current regulations, marketing tools, and safety tips with free CE Courses right in Sterling on the Lake. From social media to self-defense and, most recently, the 2017 GAR Contract Revisions, we make it easy (and fun) for our valued real estate professionals to boost their contract and commission numbers!
For more information on upcoming classes in Sterling on the Lake, follow our Facebook Page!