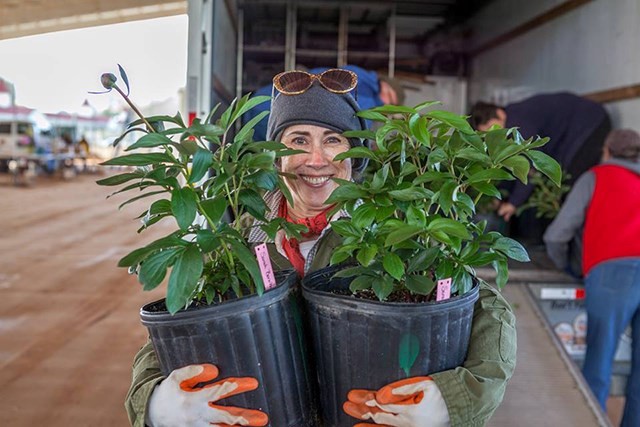 Master Gardeners Spring Expo Helmed by Sterling Resident
In need of a geranium genius or a petunia pro to help spruce up your garden this summer? Look no further than our own Sterling on the Lake resident, Elizabeth Dietz - Master Gardener extraordinaire! Dietz currently serves as the President of the Hall County Master Gardener Extension, a volunteer organization that seeks to inform the public about gardening and horticulture best practices. The nonprofit group strives to live up to their motto "Beautification through Education" by participating in community events, encouraging a love of gardening in youth programs, and partnering with the University of Georgia Cooperative Extension staff to convey new research-based findings to the larger Georgia community.
In her role as President, Elizabeth oversees the organization's volunteer efforts across Hall County. Events such as community gardens and youth gardening programs with the Hall County School District seek to educate the next generation of young horticulturists.
To fund their volunteer efforts across Hall County, the group hosts their Garden Expo twice a year. Most recently, the Spring Garden Expo was held on April 7th and 8th, hosting over 40 plant and garden goods vendors, plus art, music, and food in the Chicopee Woods Agricultural Center. "It was a success," Elizabeth said. "This year was the busiest we've ever been." Attendees had a colorful array of choices when picking out their favorite plants, all of which were grown locally by talented flower farmers from Georgia, South Carolina, and other areas nearby.
"You're not buying a plant that was grown in Oregon or Michigan. These are local growers," Elizabeth boasted. For her, this was the best part of the Spring Garden Expo. "You're not buying a plant from a hot parking lot and dealing with a part-time employee. You're actually talking to the grower who knows how to raise the plant."
In addition to the bounty of plants, the Expo hosted four expert speakers to hold free sessions for all attendees. Topics ranged from wildflowers to pollination, with each session seeking to give guests professional advice on reviving their gardens after the cold season. Experts included Peter Gordon of the Elachee Nature Science Center and Linda Chafin of the State Botanical Garden of Georgia. Planning for the Fall Expo scheduled for September 29th and 30th is already underway.
The Extension's next event will be held closer to home for our resident President, namely on her front lawn in Sterling on the Lake.
The group's 2017 Garden Walk event will feature six gardens across Hall County in a ticketed, self-paced event on Saturday, June 3rd, one of which is Elizabeth's very own home garden. For her, hosting guests in the unique, standout Sterling on the Lake community was the icing on the cake. "[Sterling on the Lake] is not your standard variety green trees and green shrubs. There is a lot of interesting landscaping. It's not your typical cookie cutter stuff." Thanks to her love of gardening, she has created a dazzling display of color to showcase. "I want color and I want color all year long, and it can be achieved, especially in the South," she said. Master Gardener docents will be posted at each featured yard to guide the visitors and answer questions.
For Elizabeth, having skilled teachers available to help budding gardeners is the best way to blossom into master horticulturists, and the Hall County Master Gardeners are ready to provide answers. "Always call and ask," she said. The office of the Extension always keeps one volunteer at the phones to offer advice. Anyone's welcome to stop by the office as well, to ask for help and have soil samples analyzed. With 200 Master Gardeners in the group, there will always be someone to help. Elizabeth encourages everyone to "putter around the soil" as she does every day in her garden. "Just try it. Don't be afraid to try."