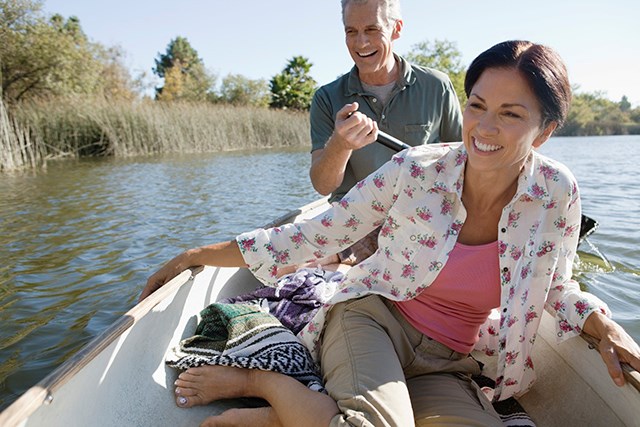 Get Your Sterling on the Lake Resident for a Day Pass!
Finding a forever home can be hard, so we're making it easier than ever to enjoy the full Sterling on the Lake experience with an all-access pass to the community. Now is the time to take our exclusive resident-only amenities for a test drive and see why so many are choosing to call Sterling home.
Trails and Parks: Walk, run, bike along our trails to reconnect with nature without leaving the community. Stroll along the shoreline, or bring the kids to play in one of our many parks or sky-high children's treehouse built right into the branches. However you're looking to spend the afternoon, we'll have the scenic spaces waiting for you.
Kayak Rides: If you're looking to relax on the water, a peaceful kayak ride on Lake Sterling will offer glittering lakeside views of our lush forested landscape. Canoes are also complimentary for residents of Sterling on the Lake for further paddling adventures.
Fitness Center: For fitness enthusiasts, our Resident for a Day Pass provides the perfect opportunity to workout in our Fitness Center, or drop in on one our onsite classes (TBD link to Fitness Classes blog post) led by professional instructors.
Tennis Centers: With 10 lively tennis courts and pickleball courts, pick-up games and couples tournaments are a daily affair in Sterling. Experience the best of our active community by meeting our onsite Tennis Pros, and staying to play a few rounds.
Pools: Looking for some fun in the sun? Bring shades, sunscreen, and a favorite book to spend your afternoon lounging by one of our four pools. If it's trills you're seeking, our two-story water slide provides an exciting way to cool off on warmer days.
Fireworks Festival: Should you choose to take advantage of your pass now, you'll be joining us at a prime time to celebrate summer days like our residents do with special community events like our Fireworks Festival featuring live music!