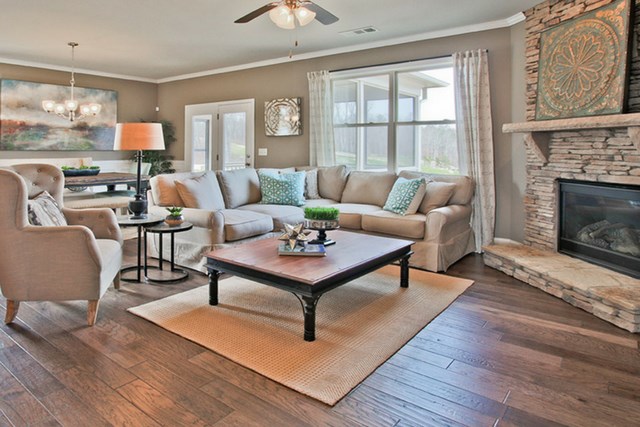 Building Your New Home
Sterling on the Lake has some of the finest homebuilders in the country to help guide residents when building their perfect home.
There is nothing like new home construction and building new doesn't have to be stressful. Here are some helpful tips to make your experience rewarding.


Plan, Plan, Plan -
Work out as many details before turning the first shovel of soil. Everything will go so much faster.


Green is Key -
A big trend in today's market is the green home. There are a lot of green, water-saving technologies in a range of prices. Take a look at the ENERGY STAR® website to see a wide variety of energy-saving building products and appliances that you can use in your home.


Keep it Affordable -
Size is an important consideration when building your first home. If you are building a larger home you can obviously expect to pay more in mortgage payments, property taxes, maintenance and utilities but you wouldn't want to build so small that it leaves you without options for redesign or expansion later. Really think about the spaces you'll need and what you can afford when planning your house and you won't have regrets later on.


Consider the Details -
It's easy to think about how many bedrooms you need or what you want in your kitchen but don't forget other details too. For instance, there should be a bathroom on each floor if you are building a multi-story home. You'll also want to consider amenities like extra closet space for any guests you might periodically have staying with you.


Leave it to the Professionals -
The best advice anyone can give you when building your home is to make as many preparations in advance as possible and let the professionals execute your dream. You should visit the site often to observe what your contractor and subcontractors are up to but making lots of changes during construction will hinder the timeline and ultimately cost you more money.
Visit our Homefinder to see the Quick Move-In Homes available today!