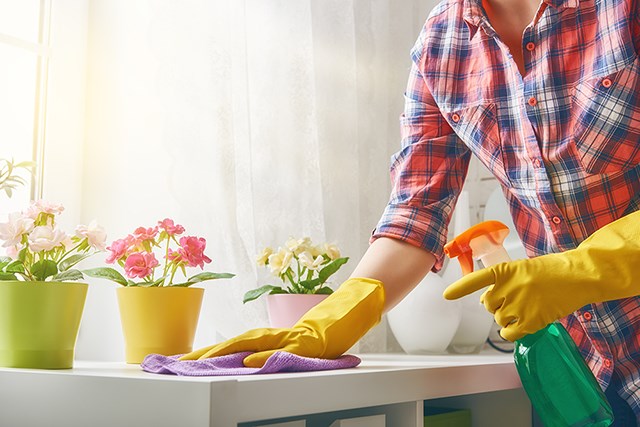 Start Fresh with these Spring Cleaning Tips
Bring back that new-home feel with spring cleaning! Our Sterling on the Lake Team has compiled tried-and-true cleaning tips that will make the process manageable and enjoyable.
Recycle the Clutter
As you pack up your winter gear in exchange for a spring wardrobe, see what can be cleared out. Tackle the clutter with the "one year" rule in mind: if you haven't used it in the last 12 months, let it go to be recycled or donated.
Once you've collected all of your unwanted, bring it to our recycling event! On Saturday, April 29th, we will be hosting Hall County's one and only residential recycling effort that is open to the public. Pack up old paint, ink cartridges, and electronics – we'll help dispose of them in an ecologically responsible manner. Even cell phones, old chargers, and computer parts are accepted. If your older items are still in good condition, you can donate them at our event. Gently used bedding, towels, rugs, and blankets will be collected for the Hall County Animal Shelter. You can even drop off your unwanted books. Give away your discards to those who need it the most and gain extra space in your home.
Vacuum and Wash the Rugs
Give your area rugs a good shakedown. Take them outside and dust off the accumulated dust or choose to air them out for a day while you're tackling the rest of the house. Go a step further and wash them with a deep-cleaner to fully get rid of grime and dirt.
Wipe Down the Walls
Plunge that sponge into some warm, soapy water and get to wiping. Walls, cabinets, baseboards, and other vertical surfaces can have dust and soot clinging on for months on end. Use a sponge mop to reach higher spots and tackle large areas in sections. Two buckets are needed: one for dishwashing detergent solution and the other to wring your sponge. Finish off by drying with a clean microfiber cloth.
Kick Out the Dust Bunnies
Grab a duster and hit those hard-to-reach places you normally wouldn't dust on a regular cleaning basis. Forgotten places like the tops of ceiling fans and lamp shades should be included. Always work top to bottom in every room, finishing off with a thorough vacuum of the floor to gather all the dust that has settled.
Look Down Under
Pay attention to what's under the sheets: your mattress. Vacuum the sides with upholstery and crevice tools. Spot-clean stains with soapy water or upholstery cleaners, then sanitize with a disinfectant spray.
Cut the Grease on Kitchen Cabinets
Get rid of the settled grease by first softening it with warm water. Wipe clean with sponge soaked in warm, soapy water. Attack stubborn stains with vinegar or baking soda to cut the gunk and dirt. Dry the newly clean and smooth surface with a microfiber cloth to unveil your sparkling new cabinets!
Don't Forget the Outdoors
Get plants surrounding your home in tip-top shape ahead of the summer season. Trim your home's surrounding plants—leggy shrubs will thank you for keeping them trimmed and neat in appearance. Shape street trees at least 6 feet high. Keeping branches 5 to 7 feet away from your house ensures they can't conduct moisture onto the roofing and siding. Cut discarded branches into 4-foot lengths and place them curbside on Sunday nights. The City of Flowery Branch's mobile chipper team will come collect and service.
Make Your Mailbox Sparkle
Your mailbox has seen wear over the colder months. Give it a fresh coat of paint to greet the new season! Check for signs of rust and use a wire brush to remove the rust from the metal. Make sure to wipe it down to remove any dirt, excess moisture or oil. Give a coat of primer paint before adding on the final color.
Keep Your Home Clean
Once you're done, you'll want your home to stay clean for as long as possible. But it shouldn't require a second deep-cleaning session. Keep the fresh feel going by getting into the habit of completing basic tasks on a weekly or even daily basis.
Start with 15-minute cleanups for each room. Tidy up items and organize the clutter so each room stays in tip-top shape. Stay diligent in keeping surfaces wiped clean or vacuumed to avoid requiring a deep clean in the future. If 15 minutes seems too long, break it down to 1 to 2 minute tasks. This makes maintenance short and painless, while your home feels new all year long.