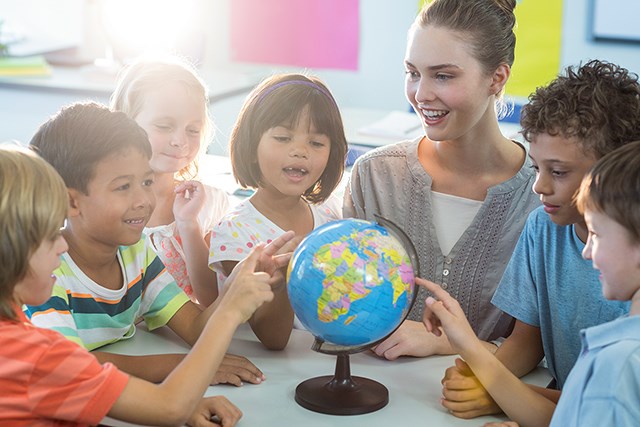 Find Quality Pre-Kindergarten Programs Close to Home
Sterling on the Lake's youngest scholars can set course for exemplary education through a variety of Pre-Kindergarten programs located right near the community. Our Sterling on the Lake Team has done the research and evaluated the area options, selecting four nearby early education choices that fit the bill with regard to key factors important to our residents, such as academic distinction, distance, and most importantly – recommendations from local parents.
The Goddard School (2.6 miles from Sterling on the Lake)
The Goddard School provides a childcare program that extends beyond daycare services. Degreed teachers implement the F.L.EX. Learning Program (Fun Learning Experience) to nurture a love of learning in a fun, engaging environment. With endless opportunities for independent discovery and cooperative learning, you can feel assured your children will grow into confident, prepared students at The Goddard School.
Winnford Academy (2.5 miles from Sterling on the Lake)
The Winnford Academy brings forth a carefully designed program for learning with a focus on individualized approaches for each child. Their state-of-the-art facility creates a comfortable setting for children close to home with dedicated teachers equipped with the latest educational tools. Learning takes place beyond the classroom as well, with field trips, classroom gardens, and more to bring a new experience for students every day.
Prince of Peace Catholic Church (1.1 miles from Sterling on the Lake)
Sterling on the Lake parents can rest easy knowing that every staff member in this institution is certified in CPR and first aid, and receives 10 hours of Bright from the Start training by the Georgia Department of Early Care and Learning. In order to bring an excellent educational experience for Pre-K students, the Prince of Peace Catholic Church follows the Zoo-phonics program, which recently won a Learning Magazine 2013 Teachers' Choice for the Classroom Award.
Four Seasons Montessori School (6.3 miles from Sterling on the Lake)
The Four Seasons Montessori School will prepare your children for not only their schooling career, but for their life adventures too. The Primary Program focuses on a wide variety of subjects, from Practical Life and Language to Math, Culture, and Art. This foundational program will help to develop your children into individuals who are assured, disciplined, and have a love for learning.