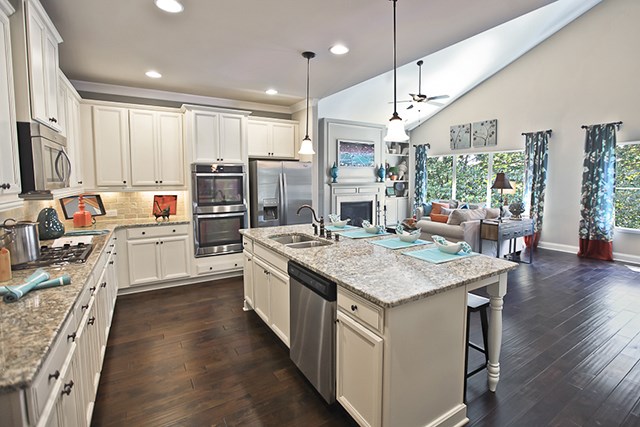 Taylor Morrison: America's Most Trusted™ Home Builder
For the second consecutive year, Taylor Morrison has won the coveted title of America's Most Trusted™ Home Builder. As one of eight esteemed homebuilders in Sterling on the Lake, the company is committed to setting the standard for superior living, and their continuously growing awards collection is testament of dedication to quality and customer care. As a result, Taylor Morrison added yet another award to their mantle.
"Every day we strive to build relationships and establish trust by providing customers with resources to make informed home buying decision," said Shawn Cate, Vice President of Sales & Marketing at Taylor Morrison. "Earning back-to-back recognition is a testament to the work we do and how it is appreciated by customers."
Lifestory Research, a national independent market research firm, presented the "Most Trusted™" honor to Taylor Morrison in January 2017. The yearly study was based on the opinions of more than 35,000 home shoppers in the U.S. shopping for a new home in 2016. The study tracks more than 100 homebuilder companies in 35 of the largest housing markets in the nation to understand how trust impacts consumers' evaluations of builder brands.
With visionary designs supported by a wealth of knowledge, Taylor Morrison continues its partnership with Sterling on the Lake to offer a wide range of timeless home designs that bear their signature superior craftsmanship. Their premier low-maintenance collection for The Springs delivers intuitively designed single-level homes with open floor plans and gourmet kitchens ideal for entertaining.
"Taylor Morrison Atlanta values its partnership with Newland Communities, developer of Sterling on the Lake," said Cate. "We are happy to enjoy options to build ranch homes designed by Taylor Morrison with easy access to the array of top amenities Newland Communities created for residents of the Sterling on the Lake community."
To see all the new homes offered by Taylor Morrison in Sterling on the Lake, click here.