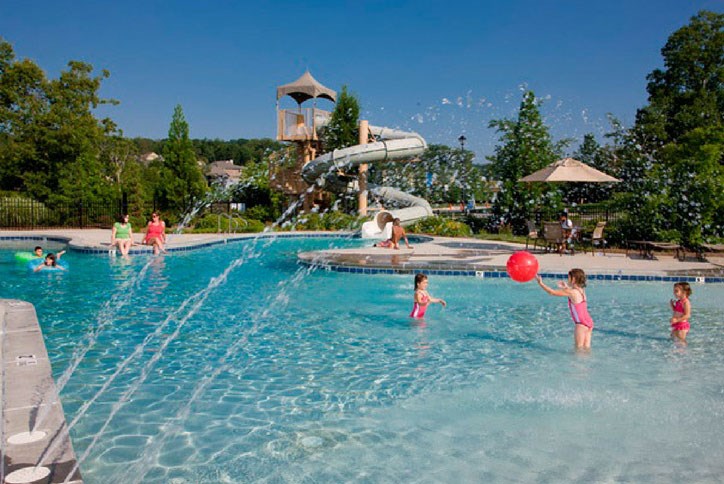 Top 5 Outdoor Activities at Sterling on the Lake
The weather is getting warmer outside and we all know what that means: it's time to get outside and have some fun! Our tranquil lake community offers beautiful homes and tons of amenities, making it a great place to enjoy the outdoors. Below we have put together a list of the top five outdoor family activities to do at Sterling on the Lake:
1)     Hang by the pool: Warm weather and cool refreshing water go hand-in-hand. The Village Center, Lakeside Clubhouse and The Lodge are where friendships are formed and memories are made. Bring your family and take a dip in any of our cool pools!
2)     Attend an evening concert: Summer isn't summer without a little music to spice things up. Head over to our Village Park & Green with your favorite lawn chair or blanket where you can enjoy memorable evenings under the stars during our Summer Concerts.
3)     Swap stories at the fire pit: Some of the best stories are told by friends surrounded by a fire. Why not add this fun activity to your summer bucket list?
4)     Play a game of tennis: Outdoor sports are fun activities that allow you to bond with your friends and loved ones. Here at Sterling on the Lake, we have two tennis centers with a third on the way. As an added bonus, we also have an on-site tennis pro to coach kids and adults.
5)     Go for a walk/run/bike: Within recent years, the amount of people who want to get outside and get fit has spiked. Going for a walk or run with your family can be tons of fun, as well as a wonderful form of exercise. At Sterling on the Lake, you will find miles of trails for walking, jogging, and biking.
So there you have it! We have tons of fun things the whole family can enjoy. On top of our awesome amenities, we also have beautiful homes that were built to fit any lifestyle priced from $200,000s to over $700,000s. We are more than confident that we can find you the perfect new place to call home!
Contact us today so we can help you find the perfect future home for you and your family. Our office number is 770-967-9777. We are open Monday through Saturday 10 a.m. until 5 p.m. and Sunday noon until 5 p.m. or click on over to our homefinder.