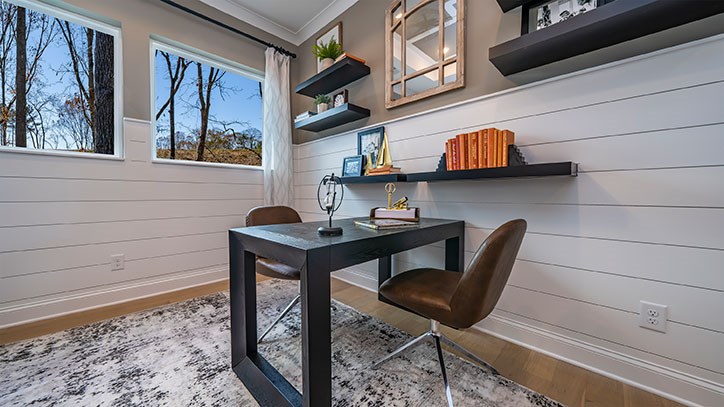 In Need of More Space?
We often hear new-home buyers wanting a house that will "grow with them." Whether you're a growing family or soon-to-be empty nesters, Sterling on the Lake has a selection of homes with flex spaces that feature plenty of room. Find a floorplan with the space you've always wanted, for the activities that fit your lifestyle, with one of our national or local homebuilders: David Weekley Homes, D.R. Horton, Vanderbilt Homes and Harcrest Homes.
Space for Your Needs
These days, homeowners are updating and adjusting their homes to better align with their daily needs, with extra space becoming more valuable than ever before. At Sterling on the Lake, you are bound to find the space you need to create your e-learning space, home office, personal gym, playroom or craft room – to name a few. View our Homefinder to begin exploring our selection of new construction homes in Flowery Branch.
Evolves Over Time
The beauty of flex spaces is they can change with you over the years, never leaving you with a need to transition to a larger home. Your flex space home will change with you through just a few minor updates. Your home's flexible features and plenty of storage mean you can easily refresh your space as needed.
Multi-Purpose Spaces
Interested in making the absolute most of your space? Flex spaces have the ability to meet two needs at once, utilizing your home's square footage to the fullest. Here are some possible two-in-one uses for your flex space:
Home Office + Guest Bedroom
Library + Learning Space
Playroom + Crafting Room
Hobby Room + Workout Space
Looking for some more flex space inspiration? Click here, to watch our flex space home video to see what you can do with your new space!
Find a new home that checks all the "must-have" boxes. Plan a visit to Sterling on the Lake to explore our beautiful community and tour our model homes. Questions? Contact our team of Community Specialists by Live Chat, email or phone to learn more about our builders and home selections.