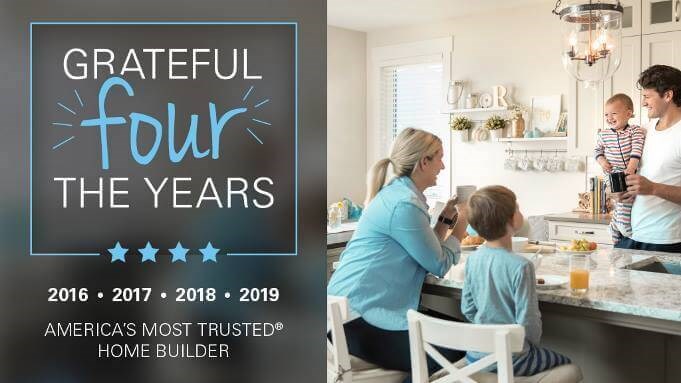 Sterling on the Lake Builder, Taylor Morrison, Voted Most Trusted
Taylor Morrison has been named America's Most Trusted™ Home Builder for the 4th consecutive year.
Taylor Morrison first earned the number one spot in 2016 by Lifestory Research, who conducts an annual study ranking the largest homebuilders in the United States based on consumer trust, and has held this title ever since – a truly impressive feat.  
"The very nature of building homes means our customers place an incredible amount of trust in us each and every day, and we at Taylor Morrison are determined to make that experience as magical as it can and should be," said Sheryl Palmer, Taylor Morrison chairman and CEO. "With great trust comes great responsibility—it's what inspires and motivates us to continue to always do the right thing and put our customers at the forefront of everything we do, every decision we make."
At Sterling on the Lake in Flowery Branch, GA, Taylor Morrison strives to not only produce exceptional homes, but to create floorplans that fit and function with your lifestyle. With their superior craftsmanship and commitment to service in every home they construct, Taylor Morrison strives to stay on the cutting edge with the latest design techniques, eco-friendly elements, and state-of-the-art construction methods.
Interested in Taylor Morrison? Use our homefinder tool to browse Sterling on the Lake homes for sale, from ranch-style homes to low-maintenance homes to quick move-in homes that are available now or very soon. With many home designs to choose from, you are bound to find the home of your dreams. The Springs neighborhood is conveniently located near The Lodge, pool, bocce ball and other community amenities. You can also grab a new book to read at the Spout Springs Library or enjoy a stroll through the trails for a relaxing day in Sterling on the Lake.
Schedule a virtual appointment today to see if Taylor Morrison is the right fit for you. Contact our team of community specialists with questions. We're excited to hear from you!