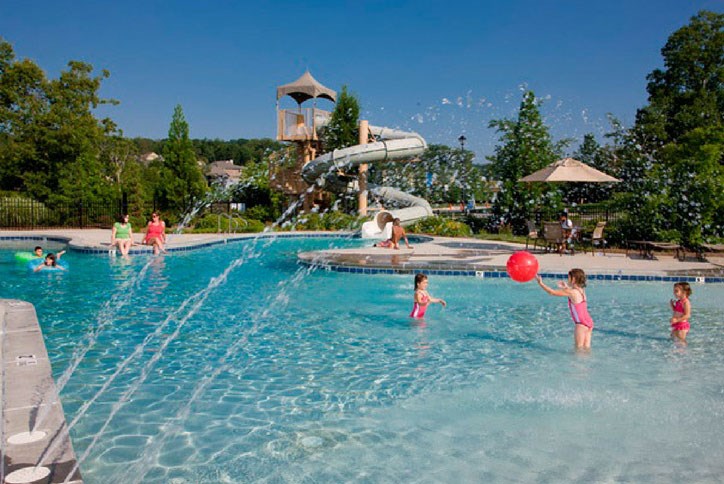 Gear Up for Summer Fun
Whether you want to beat the heat, make a splash, or get in shape, there are plenty of activities – for people of all ages – to participate in this summer in North Georgia! Check out our list of the top summer activities in and around Sterling on the Lake.
Lake Lanier - The brand new Water Park at Lake Lanier Islands is now open! If are looking for a splash of excitement, this is the place for you. There are plenty of different activities and slide options for children, teens and even adults to enjoy. If you are looking to be the captain of your own fun, you can spend the day cruising Lake Lanier with one of the local boat rental options at Harbor Landings.
Flowery Branch  - On the third Friday of each month from June through August, The Flowery Branch Block Party takes place in the charming Old Town Merchant District. The block party is free and fun for all ages. Attendees can enjoy live music filling the streets, games, arts and crafts. You won't want to miss it!
Minnehaha Falls - In the mood for a hike or sightseeing? North Georgia is home to many beautiful hiking trails and waterfalls. Hop in the car and head to Minnehaha Falls, which is less than a 20 minute drive from Sterling on the Lake. Hike the Minnehaha Falls Trail, a short, relatively easy, kid-friendly hike near Lake Rabun. About 0.2 miles into the hike, you will enter a clearing to take in views of the waterfall. This hike it perfect for a fun afternoon, outdoors with the family or friends.
Tallulah Gorge State Park - If you are in the mood for more of a challenge, pack up the car and spend the day at Tallulah Gorge State Park Hurricane Falls Trail. About an hour drive outside of Sterling on the Lake, the park features many stunning opportunities for hiking, biking and running. Its most popular trail, the Hurricane Falls Trail, is 2.25 miles in length and includes a beautiful picturesque suspension bridge. Don't forget to bring the camera!
Sterling on the Lake - On lazy summer days, it is always nice to relax and stay close to home. For these low key days, Sterling on the Lake has many opportunities sprinkled throughout the community to keep you busy. Residents can spend the afternoon at the Lakeside Clubhouse, where they can hop in the pool, kick back in the movie theater, break a sweat in the fitness center or catch up with friends on the veranda. There are also plenty of tennis courts, trails, parks and other green spaces to keep you entertained on summer days.