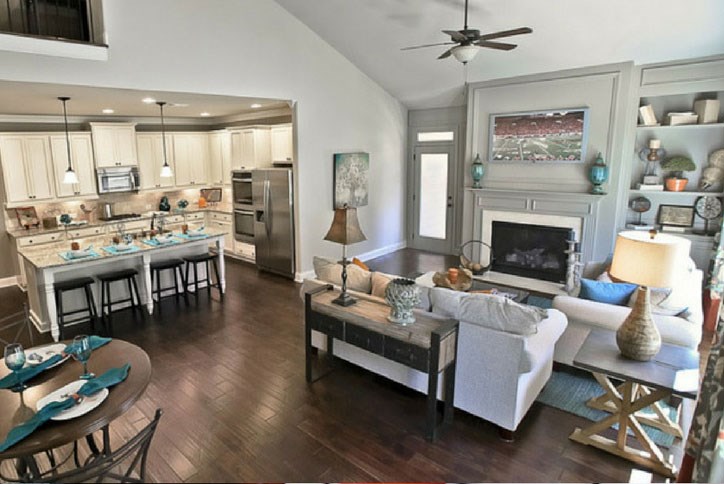 Your Room, Your Rules
Play room. Craft room. Home office. Man cave. Flex space is extremely popular right now, and the options are endless. Whether you want to create a fun space for  kids activities or a sanctuary room for adults in your new home, here are some tips and tricks to help you achieve the space you want!
Designate a Playroom
Small spaces and extra rooms can be great for a kid's playroom. Items like bean bag chairs, a large rug to cover the floor space, cube cabinets, bookshelves, small tables and storage containers for toys can help transform the space. Finish off with colorful paint or fun vertical stripped wallpaper, which gives the illusion of a larger space, for an exciting room for the kids to call their own.
Design a Home Office
Having a retreat to buckle down in for work is priceless when working from home in the Atlanta suburbs. Even if you just need a space to organize all of your documents, there are simple tricks to transform a space into an office. Adding slim furniture creates a seamless, clean look and feel. Adding a horizontal wall-mount bookshelf makes for great storage to further leverage your space. Finish off with a couple stylish light fixtures to for a bright atmosphere and some wall-hung picture frames for personalization.  With just a few steps, you have yourself a functional home office.
Home Movie Theater
Creating a home movie theater might seem like a serious undertaking, but there are simple tricks to infuse the look and feel of a theater in your own home. Add a bookshelf to store DVDs and consider swapping out the TV for a projector, creating a truly authentic feel. Add comfy reclining furniture, black out curtains and some popcorn and you're ready for a movie marathon in your brand new home!