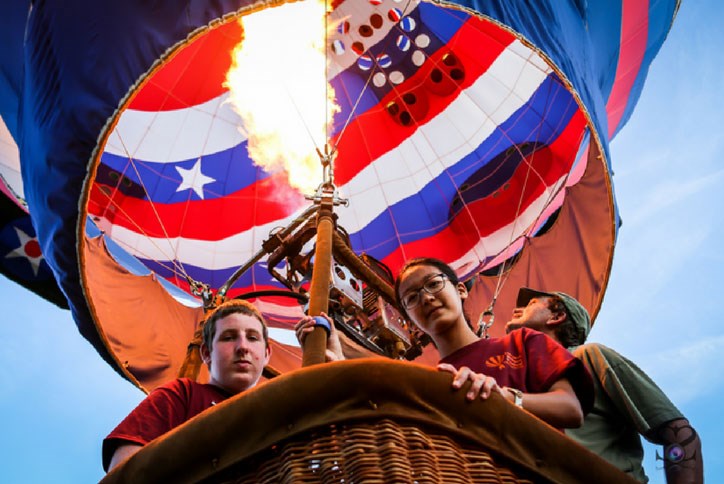 Don't Miss the Annual Harvest Balloon Festival!
Don't Miss the Annual Harvest Balloon Festival!

This year marks the seventh anniversary of the Sterling on the Lake Harvest Balloon Festival, which will be held on Saturday, October 15 from 3 until 9 p.m. and Sunday, October 16 from 7 until 9 a.m. The festival will be filled with fun fall activities such as pumpkin painting, balloon rides, music and food! In addition, a variety of vendors will be on hand.
Admission for the festival is $2 per person, cash only. All proceeds benefit two local non-profits: The Hall County Animal Shelter and Challenged Child and Friends, an organization that provides services to special needs children through a variety of tactics. There will also be a pet adoption tent, courtesy of The Hall County Animal Shelter, set up onsite for you to meet your new best friend!
Tethered balloon rides are $15 per person and will be held Saturday from 5:30 until 8:30 p.m. and Sunday 16 from 8 until 9:30 a.m. Tickets will be distributed on a first come, first served basis. The tethered balloon rides are low level flights, anywhere from tree level to about 3,000 feet above the ground (weather permitting).
In addition to the tethered rides, attendees can book a real hot air balloon ride over Flowery Branch! Opportunities are extremely limited for this once-in-a-lifetime balloon ride, so interested individuals are encouraged to book their flight today. Tickets for these flights are $250 per person, and the flights will take place Sunday, October 16 at 8 a.m. For more information or to book your spot, call 770-967-9777.
If you're searching for a new home in North Georgia, then be sure to visit the homebuilder booths while you're at the Harvest Balloon Festival. With a multitude of builders and homes to fit every lifestyle, Sterling on the Lake provides a variety of beautiful home styles and price points.
In addition, Sterling on the Lake offers amenities and activities for all ages. Make memories by the pool, exercise at the fitness center and tennis courts, and enjoy the sunrise and sunset on the porch of the clubhouse. Or, simply bask in the scenery, as homes are surrounded by more than 75 acres of lakes, green space, parks, walking trails and much more.
For additional information on homes within the Sterling on the Lake community, visit www.sterlingonthelake.com or arrange a tour today at 770-967-9777.