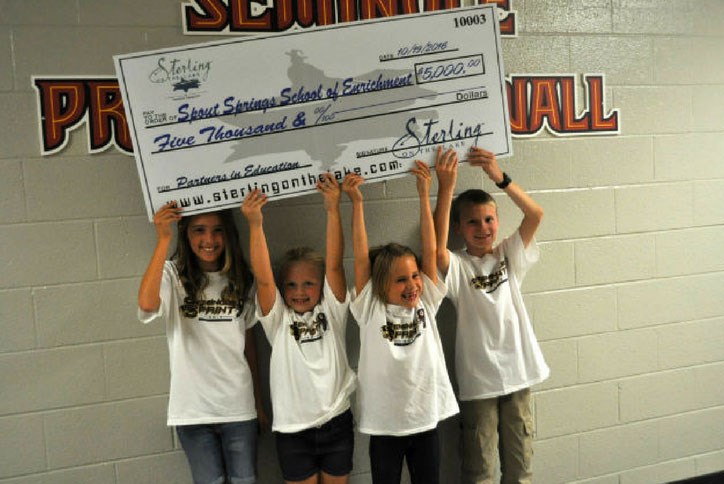 Sterling on the Lake Provides Donation to Local Elementary School
FLOWERY BRANCH, Ga. – Sterling on the Lake recently presented a $5,000 donation to Spout Springs School of Enrichment. The donation will go into the PTO's general fund, which is used throughout the year to support and give back to the school through increasing arts programs, providing professional learning for staff, increasing technology and much more. This year's largest use of the general fund will be to install a new running track at the school for students, staff and local families to use and it will continue the school's mission of promoting health and wellness.
The Sterling on the Lake community is owned in a joint venture partnership between North America Sekisui House, LLC (NASH) the US business unit and full subsidiary of Sekisui House, Ltd, Japan's largest homebuilder and leading diversified developer, and Newland Real Estate Group, LLC, whose development business, Newland Communities, is the master developer of the community. It is one of 33 assets the NASH-Newland partnership manages together, in 11 states across the US.
"We are proud to be a Partner in Education with Spout Springs School of Enrichment, and we are honored that we are able to help the school achieve one of their goals this year," said Heather Smith, Marketing Manager at Sterling on the Lake. "Newland Communities and Sterling on the Lake support the school's mission to educate this generation on living a healthy lifestyle, and we're excited to be a part of making it happen."  
As a recently designated Healthy School, through the Alliance for a Healthier Generation's Healthy Schools Program, Spout Springs wants its students to learn how to make lifelong decisions that keep them healthy. The planned track will help to support this mission of lifelong health, and will be used during physical education classes by the school's running club and as a resource for staff, students and their families. In addition, the track will become home to the Seminole Sprint, the school's annual fun run fundraiser.
As a Partner in Education with Spout Springs, Sterling on the Lake and Newland Communities aims to enrich the educational process and help strengthen the school. A large percentage of students attending Spout Springs reside in Sterling on the Lake, making the partnership a natural choice.
"We are very fortunate to have partnerships with businesses in our local community like Sterling on the Lake and Newland Communities," said Jean-Marie Ellis, Spout Springs PTO president. "It's wonderful to have a large developer support the local school system and the community in which it builds."
For more information on the Spout Springs School of Enrichment, visit sses.hallco.org. To learn more about Sterling on the Lake, visit www.SterlingontheLake.com.