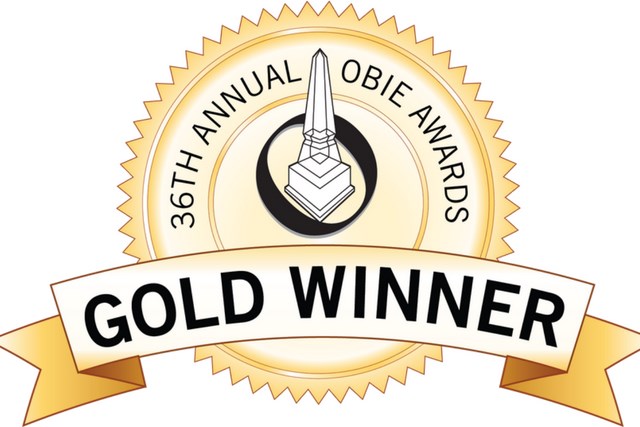 Gold OBIEs Awarded to Sterling on the Lake Builder and Developer
Gold OBIEs Awarded to Sterling on the Lake Builder and Developer
Sterling on the Lake is proud to announce that the Atlanta Sales and Marketing Council presented both its developer and one of its home builders with Gold OBIE awards at the 36th Annual OBIE Awards ceremony. As the premier awards program for Atlanta's homebuilding industry, the OBIEs recognize excellence in more than 100 homebuilding, marketing, remodeling and personal achievement categories. Sterling on the Lake's 2016 achievements included Best Community Website and Single Family Builder Detached.
Newland Communities won a Gold OBIE in the Best Community Website category for the website created for Sterling on the Lake. The Sterling on the Lake website provides a tailored storytelling experience to help home shoppers make an informed decision about the purchase of a new home. The brand story is told from the moment a visitor lands on the homepage and continues as they navigate through details on home plans, community amenities, specialized product offerings and details on the surrounding area.
Video testimonials bring the community to life as a place where nature and neighbors come together, while strategic links to home plans ground the project as a new-home community with a vast product offering. The clear navigation, scope of content and fresh design are unmatched by competitors.
Harcrest Homes, LLC, one of the eight builders at Sterling on the Lake, won a Gold OBIE in the Single Family Builder - Detached (Builds 1-25 Homes/ Year) for a new home at Sterling on the Lake. The featured home was custom built for a particular buyer. The buyer wanted casual living spaces with natural materials and sophisticated elegance. Throughout this home are natural timber beams, high ceilings and wooden floors. As a family that loves to cook, the buyer chose upgraded cabinets, appliances and finishes.
Each room was made to fit the owner's wants and needs. The owner's bath is an oasis with a stepless shower and open entry, and it was completed with a tile selection to add to the natural style these home buyers love. The home studio provides a craft room with wonderful storage. Secondary bedrooms, an entertaining kitchen, wet bar and family room on the terrace level complete this two-story home. As a family who wanted to take advantage of the beautiful views, screened porches and a wood-burning fireplace were featured on the deck.
Harcrest Homes builds in two distinct areas of Sterling on the Lake. Build a dream home either along Lake Sterling at the Cove and the Overlook and enjoy year-round views of our private lake, or build a new home near the heart of all of the amenities at Sterling on the Lake on the park-front homesites. For more information on Harcrest Homes at Sterling on the Lake, visit the builder page here.