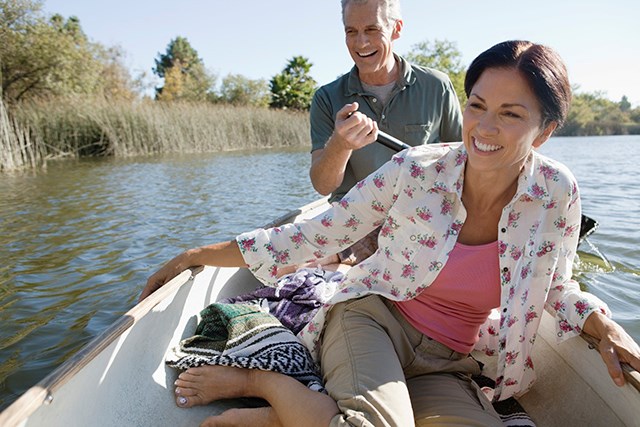 5 Reasons to Start 55+ Home Shopping Now
If you are kicking off a new chapter of life, you may also be envisioning a new home as part of your fresh start. One thing is for sure, the home shopping journey looks different from a few years ago. There are a several key things to consider if you want to move into a new home over the next year. Check out our top reasons to begin exploring new 55+ home options today.
1. You'll want some time to get to know the community. Start researching in person or virtually.
Purchasing a new home in a new community is an exciting – and big – decision. You'll likely want to explore your options, then narrow in on the communities and neighborhoods that seem to fit your lifestyle the best. Whether you are wanting to move within the next couple of months, or are simply just beginning your home shopping research, there are different ways to browse the Sterling on the Lake community. If you are ready to begin shopping in-person, plan a visit to Sterling on the Lake to tour the model homes, resort-like amenities, and the charming area of Flowery Branch. Not quite ready to visit? Relax and get to know our community from the comfort of your couch with our Virtual Home Shopping Hub.
2. You'll want to talk through timeframes with our builders. Different floorplans may have varying schedules.
Our new 55+ neighborhood, Encore by David Weekley Homes at The Retreat, features a variety of charming ranch-style homes. Priced from the mid $300s, you'll find designs that balance the flexibility to entertain family and friends, while also serving as a calming oasis to relax and recharge. With open floorplans, plenty of natural light, luxurious primary suites, and more, your biggest challenge will be selecting your favorite house from David Weekley Homes.
3. You'll definitely want a chance to see all of the amenities available. You can start taking a look virtually.
Encore by David Weekley Homes at The Retreat is not your typical 55+ neighborhood. Here, you can experience the best of both worlds, with exclusive neighborhood amenities as well as access to the greater, multi-gen community. Socialize, exercise, or kick-back and relax at The Retreat's brand-new Clubhouse, which is set to open in January. Or, explore The Lakeside Clubhouse, tennis and pickleball courts, and miles of trails that weave throughout the community. Here, you can find your bliss with as much – or as little – activity as you desire.
4. You'll want to hear from people who live there. Explore our resident testimonials.
At Sterling on the Lake, you'll not only find yourself a new house, but also a new lifestyle filled with activity and strong sense of community. There are many ages and life stages that love to call Sterling on the Lake home. Read the reviews and hear from them here.
5. You'll want some time to explore the surrounding area. And it has something great to offer during every season.
Winters in the Flowery Branch area are great for getting into the holiday spirit, but there is also plenty to see and do year-round. Our proximity to beautiful lakes – such as Lake Lanier – and nature make it easy to enjoy the outdoors in every season. Sterling on the Lake is a short drive to places such as Tallulah Falls, Chattahoochee National Forest, Pisgah National Forest, the charming towns of Highlands, Cashiers, and much more. You can also easily pop over to Gainesville, Buford, or Atlanta for any number of events throughout the year. Whether you are in the mood for a day trip, or a weekend away, there is no shortage of activities and destinations nearby to keep you busy!
There is a lot of research and decision-making that goes into purchasing a new home. Beginning the process now allows you to fully explore your options for this next exciting stage. Our team of Community Specialists are always just a call or a click away and are ready to help you find the perfect new home.
Questions? Contact us by phone, email or live chat to learn more about everything Sterling on the Lake has to offer.