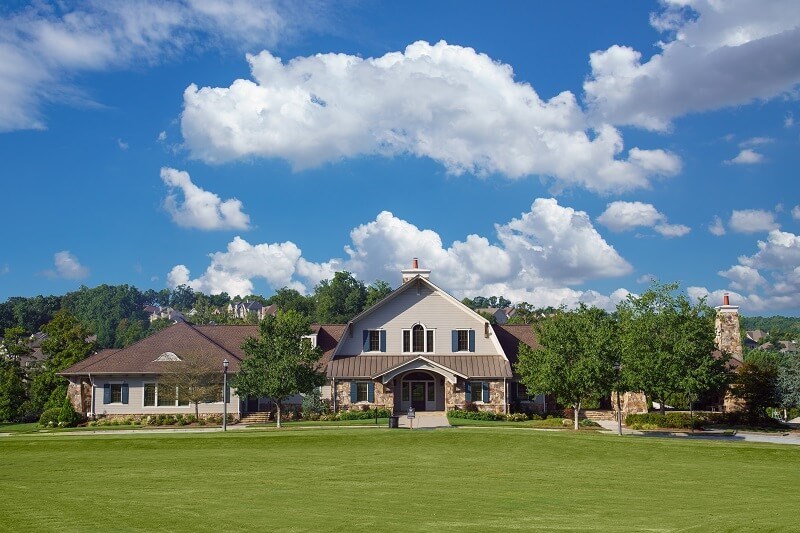 Find Bliss at the Lakeside Clubhouse
                In addition to beautiful new homes in Flowery Branch, Sterling on the Lake has a variety of impressive amenities that residents can enjoy to help support a balanced and active lifestyle. At the heart of the community, you can find the Lakeside Clubhouse, one of our residents' favorite places to spend time in Sterling on the Lake. Here is a list of the top five things that make the Lakeside Clubhouse a hub of the community:
Find Rest and Relaxation – Relax on the sweeping veranda and take in views of Lake Sterling. Grab a good book, catch up with friends or curl up by the outdoor fireplace and take a moment to unwind from the day-to-day hustle and bustle at the lakeside
Break a Sweat – Our 24-hour fitness center has a selection of ellipticals, bikes, treadmills and free weights to help you focus on your health or achieve your fitness goals! Or you can start out for a brisk walk or jog along the trail originating at the Clubhouse.
It's Showtime! – The 27-seat theater inside the Lakeside Clubhouse is a great spot to connect with fellow residents over a good movie. We regularly screen films for community nights, or you can rent out the theater for a private event.
Take the Plunge – During the warmer months, you can enjoy our resort-like pools at the Lakeside Clubhouse. Take your pick between the pool with a two-story slide for endless fun or swim a few laps in our zero-edge infinity pool overlooking the lake.
Embrace an Active Social Calendar – With a full-time Activities Director, the community always has a variety of events on the social calendar. From large community events such as the 4th of July Celebration fireworks, to smaller activities like work-out classes or Cornhole leagues, there is plenty to keep you busy in Sterling on the Lake.
There are endless ways to get out of the house, stay active, and connect with others in Sterling on the Lake. Adopt the lake-living lifestyle and find your perfect new-construction home in our welcoming community. Contact our team of community specialists with questions or to schedule a tour – we can't wait to hear from you!