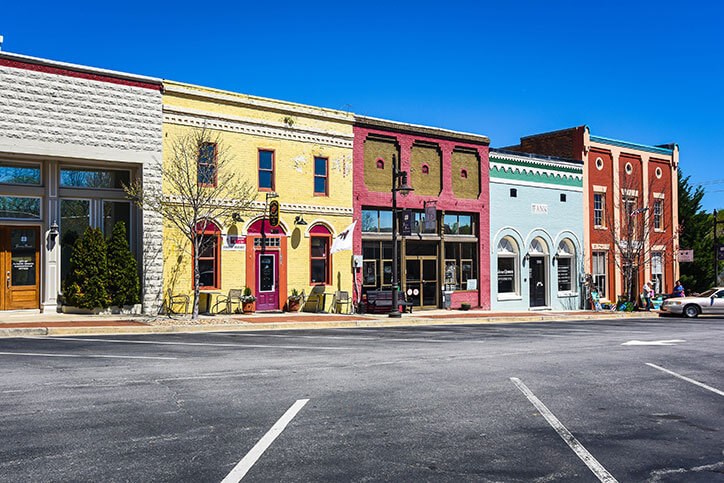 Sterling on the Lake's Ultimate Guide to Downtown Flowery Branch
Just minutes away from Sterling on the Lake is the historic downtown Flowery Branch. With origins dating back to 1873, this charming town has earned an A grade from Niche.com and boasts unique shopping, dining, and cultural opportunities. It's not uncommon for Sterling on the Lake residents to spend afternoons antiquing or grabbing a bite at one of the mouthwatering local eateries.
Not sure where to start? We've put together an ultimate guide to the best spots to help you hit the town!
First Stop: Flowery Branch
Kick off your day with a lesson on the town history. Tour the Flowery Branch Historic Train Depot and Museum to understand the significance of the restored train depot and its ties to the town's identity. The museum features well-curated exhibits and a wooden caboose from 1914 that curious visitors can explore.
5302 Railroad Avenue, Flowery Branch, GA ∙ Open Every Saturday 11 am – 2 pm
Find Your Next Vintage Treasure
Continue your historical trip into Sample Pleasures or Southern Grace, quaint antique shops and boutiques located along Main Street. Browse through their eclectic collection of home items and antiques and discover a unique gift for your loved ones.
Sample Pleasures, 5504 Main Street, Flowery Branch, GA ∙ Open Every Wednesday to Saturday 10:30 am – 5 pm
Southern Grace, 5603 Main St, Flowery Branch, GA ∙ Open Every Mon. - Thurs. 10 am - 6 pm, Fri. -Sat. 10 am - 8 pm 
Shop Farm Fresh Finds
Stroll through the Flowery Branch Farmer's Market, currently in full swing for the 2017 season with local farmers, artisans, and purveyors sharing their foods and goods. Bring home local treats including handpicked seasonal fruits and vegetables, fresh baked delicacies, fresh cut flowers, and more.
5305 Railroad Avenue, Flowery Branch, GA ∙ Held Thursdays through Oct. 26 4 pm – 7 pm
Essential Eats
Once you've worked up an appetite, visit one of the many top-rated downtown dining establishments. For die-hard barbecue fans, Moonie's Texas Barbecue offers slabs of smoky meats and healthy heaps of no-frills sides. The beloved barbecue joint selects choice meats rubbed with sea salt and ground black pepper that make avid fans line up outside. Bring a hearty appetite and order the brisket, their star dish! For those craving seafood, the Fish Tales Lakeside Grille is a local favorite, serving up fresh food from fish tacos to shrimps and grits. The casual dining hot spot is located on the Lake Lanier marina, with live music and a large play area for the kids. If you're looking for an elegant evening out on the town, Antebellum serves contemporary Southern dishes and well-crafted cocktails. Recently named one of the top 100 restaurants in America by Opentable.com, the fine dining establishment is a go-to for many Sterling on the Lake residents seeking a special place to celebrate meaningful occasions.
Moonie's Texas Barbecue, 5545 Atlanta Highway, Flowery Branch, GA ∙ Open Daily 11 am – 8 pm
Antebellum, 5510 Church Street, Flowery Branch, GA ∙ Open Tues. - Thurs. 5 pm – 9 pm, Fri. - Sat. 5 pm – 10 pm
The Icing on the Cake
After a delicious meal, it's time to find room for dessert and a stop at Abstruse Pastry Company. Their scrumptious flavor pairings bring to life fun and flavorful desserts like blackberry honey sweet bottom cakes and lemon amaretto poppy seed muffins, making this little newly opened bakery a local favorite. Or stock up on your favorite nostalgic goodies from the 40s through the 80s in Liberty Candy Company. This confectionery paradise even makes homemade chocolates for a sweet ending to your day!
Abstruse Pastry Company, 5516 Main Street, Flowery Branch, GA ∙ Open Thurs. - Sat. 10 am – 6 pm
Liberty Candy Company, 5518 Main Street, Flowery Branch, GA ∙ Open Tues. - Sat. 12 pm – 8 pm
For more information on what's in and around Sterling on the Lake, check out our Area Map!