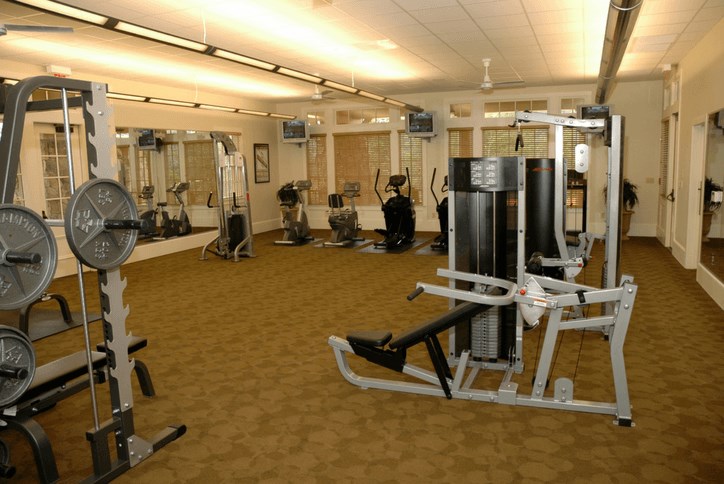 Sterling on the Lake Enhances the Health of Residents
Sterling on the Lake by Newland Communities is more than just another community, it's a lifestyle. Our residents are able to enjoy the endless amenities that this one-of-a-kind community has to offer, from the lakes and parks to the fitness center and classes.
Located in our beautifully designed Lakeside Clubhouse, the 24-hour fitness center awaits all of the resident fitness fanatics. This efficiently designed fitness center has several machines for cardio and weight training, and features free weights and more.
In addition to enjoying a traditional workout, our residents can partake in multiple community classes. Currently, we offer multiple fitness classes, including PiYo, Yoga and Barre Above as well as Aqua Aerobics (seasonally). These classes are taught by certified and experienced fitness instructors, and offer a blended approach which can be tailored to any attendee needs.
PiYo is a new class that delivers the muscle-sculpting, core-focused benefits of Pilates along with the flexibility of Yoga. PiYo introduces you to dynamic, flowing sequences that can burn serious calories at the same time as lengthen and tone your body. PiYo is held every Monday and Wednesday at 10:00am and Tuesday and Thursday at 7:30pm.
Our Yoga class is a well-loved fitness class that offers a customizable workout is for everyone who is looking for a great method to tone, strengthen and build flexibility at any age. All you will need is your yoga mat and water. Yoga is held on Mondays and Thursdays from 7:30 to 8:30 a.m.
Barre Above offers a personalized approach to fitness based on your flexibility level. Class-goers will work within their range of motion, making it a safe and effective workout with lots of opportunities to advance each move. Residents are encouraged to bring a friend or family member to this exciting new class held on Mondays from 7 to 8 p.m.
All fitness classes offer drop-in rates, so there is no need to schedule in advance.  If you are committed to your fitness participation, instructors offer multi-class discounted rates.