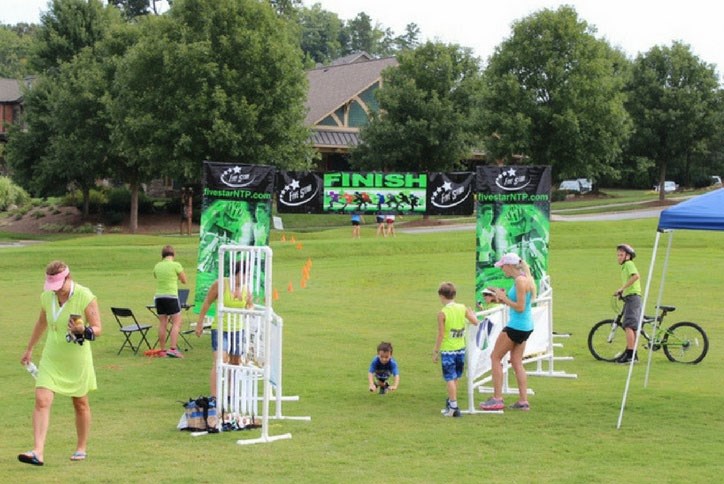 Race in the kidFIT Triathlon at Sterling on the Lake!
Active kids mean healthy kids, so we're excited to be a part of an event to get your kids up and moving! Sterling on the Lake will be hosting the kidFIT Triathlon for kids of all ages to compete in swimming, biking and running!
The kidFIT Triathlon will take place on Saturday, August 20, with the course beginning and ending at the Sterling on the Lake Clubhouse. The distances for the events will vary based on the kids' ages. Age brackets include those aged 12 to 14, 10 to 11, 8 to 9, 6 to 7 and 5 and under.
The swimming portion of the triathlon will be held in our community's 25-yard pool. When biking, competitors will race through our course which surrounds the Village Center Park and surrounding homes (which is closed to through traffic). Running will take place on the paved walking trails and sidewalks.
Adults shouldn't feel left out of the fun! An adult division will kick off the event that follows the same course and distances as the 12-to-14 year olds. Medals will be awarded to the three fastest men and three fastest women!
Online registration ends August 19 at 3 a.m. Race day registration and check in begins at 6:30 a.m. on August 20. Adults start their competition at 7:30 a.m., followed by the 12-to-14 year olds at 8 a.m., 10 and 11 year olds at 8:30 a.m., 8 and 9 year olds at 9 a.m., 6 and 7 year olds at 9:30 a.m. and 5 and under at 10 a.m.
Registration price is now set at $45 for all kids and $35 for adults. Register by August 16 to receive a T-shirt and goodie bag! Competitors may register on the day of the race, but will be charged an additional $5.
If you want to be involved in the kidFIT Triathlon but don't want to compete, don't worry! Volunteers are also welcome! We'll place volunteers along the course to make sure everyone is safe and let them keep an eye on the action.
Finish off the summer with good fun and friendly competition! Kids and adults alike can test their skills in water, on land and on wheels. Whether it's to set new personal bests or just to have a little fun, don't miss out on this experience!
For more information, including details on the courses, click here.