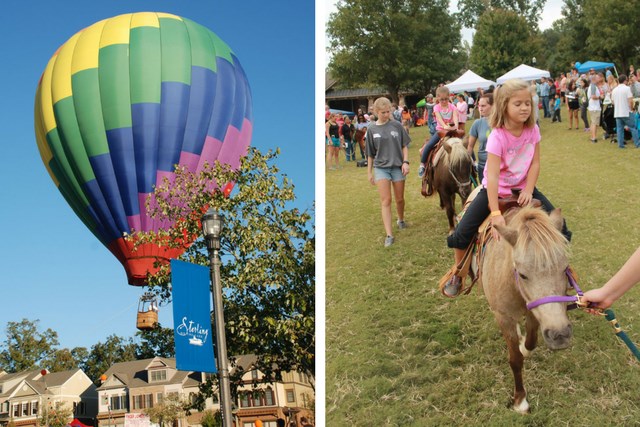 Take to the Skies for Sterling on the Lake's 8th Annual Harvest Balloon Festival
The season notorious for pumpkin pie, caramel apples, and falling leaves is finally upon us, which can only mean one thing for Sterling on the Lake: Harvest Balloon Festival is here!
This year, we're going bigger and better than ever for our 8th annual event. Take part in classic fall activities like pumpkin painting, bumper cars, and swings. Then, head over to the main attraction you can't miss: the hot air balloons. Drift into the sky in a tethered balloon ride from 5:30-7:30 p.m. on October 21st or a non-tethered balloon at 8 a.m. on October 22nd to experience the unparalleled beauty of Sterling on the Lake from a birds-eye view. Tickets will be sold onsite for $15 per person (tethered) and $250 per person (non-tethered) on a first-come, first-serve basis.
Once you've finished soaring over Sterling on the Lake, check out the variety of festival food, musical events, and shopping with local vendors that the Harvest Balloon Festival has in store. Our esteemed homebuilders will also be at the festival with booths and fun games, so you can learn a little more about life in Sterling on the Lake. Looking to add a furry new addition to the family? Stop by the Hall County Animal Shelter adoption tent to meet some of Flowery Branch's adorable pets available for adoption.
The 8th Annual Harvest Balloon Festival will take place on October 21, 2017 from 3-8 p.m. Admission to the event is $10 per adult, $5 for children age 3-5, and FREE for children ages 2 and under. Tickets are available online. Event parking will be offered at Flowery Branch High School with shuttles available to transport guests to and from the festival, ending at 10 p.m. Proceeds from the event will benefit two local and worthy organizations: Sisu Integrated Early Learning (formally known as Challenged Child & Friends) and the Hall County Animal Shelter.
Come experience what Newland Communities' Vice President of Operations, Jennifer Landers, calls "the highlight of the year in Sterling on the Lake." It's sure to be a memorable family fun event. For additional information, including a schedule of events, please visit the Harvest Balloon Festival website. Free parking is available for Harvest Balloon Festival visitors with details also located on the site.

For directions to Sterling on the Lake and more information about the community, click here.