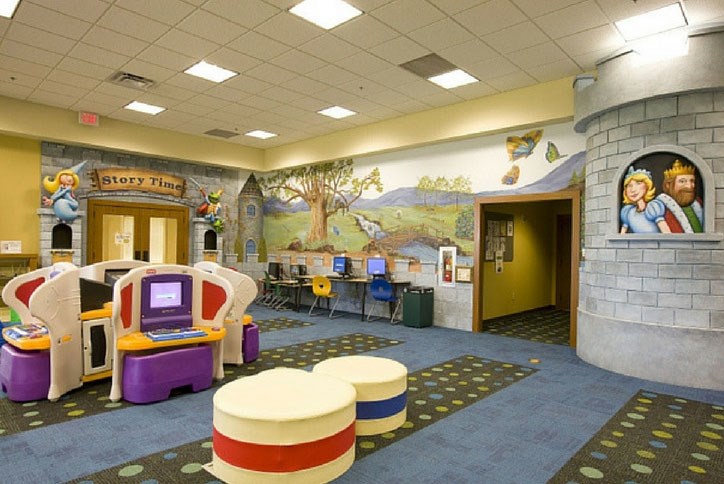 Grab a Snack and a Book at the Spout Springs Library and Cafe
We couldn't be more excited about having the Spout Springs branch of the Hall County Public Library System located right at the entrance of the Sterling on the Lake community! This 28,000-square-feet library and café is the perfect getaway experience just steps from your own home.
In addition to providing a wealth of books to choose from, the Spout Springs Library hosts a variety of community events every month that residents and local citizens are invited to attend. Events held at the library include information sessions about writing, knitting, retirement planning, college and graduate school exam preparation, career coaching, family night and other fun activities.

Here are some of the library's best features:
•    Story time and a puppet room for kids
•    Youth and teen meeting rooms
•    Computer lab
•    Wireless access
•    Private study areas

Imagine sitting down on the screened-in back porch with your favorite book while enjoying a tasty treat! The Friends Café inside of the library gives residents at Sterling on the Lake quick access to snacks, sandwiches, coffee, tea and an endless selection of books. The Spout Springs Public Library is the perfect location to meet friends, mingle, get some quiet time and strengthen your intellectual skills.
Library hours are Monday and Thursday noon to 8 p.m., Tuesday and Wednesday 9 a.m. to 6 p.m., and Friday and Saturday 9 a.m. to 4 p.m. The library is closed on Sunday. The Friends Café is open Monday and Thursday noon until 6 p.m., Tuesday and Wednesday 9 a.m. until 6 p.m., Friday 9 a.m. until 4 p.m. and Saturday 9 a.m. until 3 p.m.

At Sterling on the Lake, our top priority is to make sure that every resident has access to activities that will enhance and enrich their lives. Living in this community gives you access to lake views, jogging and walking trails through the woods, the open Village Green, a recreation center, tennis centers, community pool and many more amenities. For information about available homes at Sterling on the Lake, visit our website at www.SterlingOnTheLake.com. To learn more about any Spout Springs Public Library event, call 770-532-3311 extension 191.